Sunset Stroll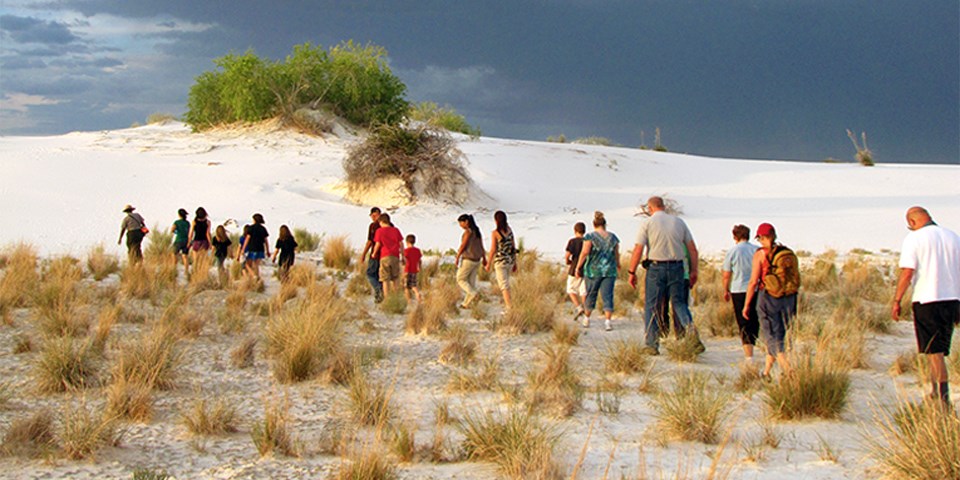 The Sunset Stroll is a leisurely, ranger-guided stroll through the gypsum sand dunes. It is a splendid opportunity to experience the dunes first-hand while learning about the uniqueness of our geology, plants, and animals. As an added bonus, the stroll is timed to end at sunset, providing a panoramic view of the sun setting over the mountains and the potential for some breath-taking photographic opportunities.
When
Sunset strolls are offered daily. See below for start time.
Reservations
Reservations are not required or permitted.
Where
Meet near the sunset stroll sign parking area, a 5-mile (8.05 km) drive from the fee station.
Cost
Program is free. Park entrance fees apply.
Program length
45 minutes to one hour
Safety Information
Be prepared for warm and sunny afternoon temperatures. Bring a hat and wear sunglasses. The sand reflects the sun so apply sunscreen to all exposed areas even in winter. Wear loose, light-colored clothing to help keep your body cooler, and bring one liter of water per person for the sunset stroll. Bring a jacket for the cooler evening;as the sun goes down so does the temperature
Fitness
The sunset stroll is an easy to moderate hike. The hike is approximately one mile (1.6 km) in length, and it is conducted at a leisurely pace with stops along the path. The stroll does not require much climbing; however, it does lead visitors off-road, across, and over the sand.
Accessibility
The sunset stroll does not require much climbing; however, it does lead visitors off-road, across and over the sand. As a result, it is not wheelchair or stroller accessible. Accommodations to visitors with special needs will be made as best as possible, but the stroll may require ascending and descending a few gradual dune slopes.
Service animals are allowed at all park facilities open to the general public.
Restrooms
No toilets are available at the sunset stroll meeting area or along the sunset stroll path.
Seating
Seating is not available on the sunset stroll; however, you may sit on the ground at any time during the program if you wish.
Pets
Pets are allowed as long as they are non-disruptive, on a leash no longer than six feet (2 m), and under physical control at all times. Pets, like humans, should leave only footprints. Pick up after your pet(s) and Leave No Trace.
Programs may be canceled due to public health, weather or missile range activities
Weather at the park can vary drastically and change quickly. The decision to cancel a program due to weather is rarely made more than 30 minutes before the program start time. Call the park at 575-479-6124 ext. 236 if you would like to confirm that a program is still scheduled. If the program is canceled, it will not be re-scheduled.
2022/2023 Sunset Stroll Schedule
*Schedules are subject to change. Activities may be cancelled.
| | |
| --- | --- |
| Dates | Program Time |
| December 16 - January 7 | 4:00 pm |
| January 8 - February 11 | 4:30 pm |
| February 6 - 9 | No tour |
| February 12 - March 11 | 5:00 pm |
| March 12 – April 8 | 6:00 pm |
| April 9 – May 6 | 6:30 pm |
| May 7 – August 12 | 7:00 pm |
| August 13– September 9 | 6:30 pm |
| September 10–September 30 | 6:00 pm |
| October 1 – October 14 | 5:30 pm |
| October 15 – November 4 | 5:00 pm |
| November 5– December 24 | 4:00 pm |
| December 25 | No Tour |
| December 25 - December 31 | 4:00 pm |


Last updated: May 20, 2023