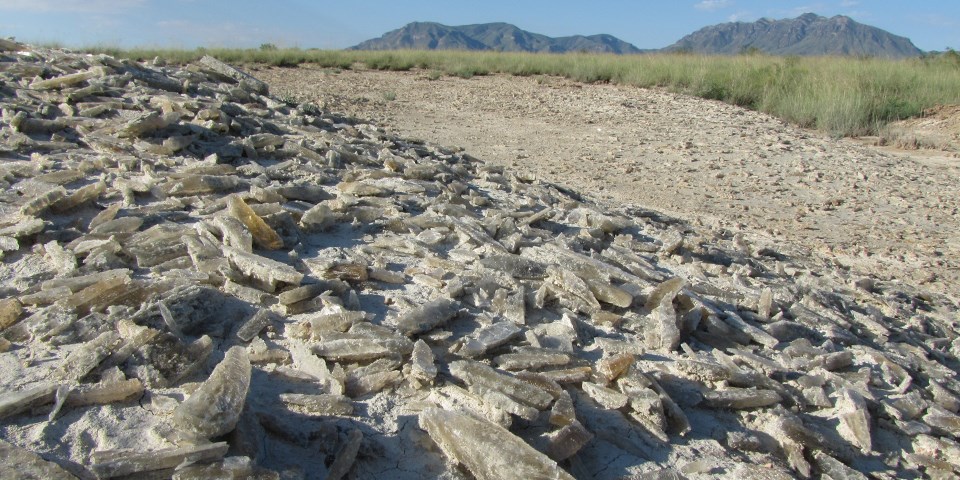 Have you ever wondered how the white sands formed and why Lake Lucero is often referred to as the birthplace of the dunes? Take a tour to Lake Lucero with a ranger and learn about the formation of the sands. Rangers will share the geologic story of White Sands National Monument as you traverse a steep gully down to the lake bed and walk by thousands of exposed selenite crystals, which are critical to the formation of the gypsum sand. Lake Lucero is a dry lake bed that only fills with water when there has been abundant rain or snow in the surrounding area.
When
Offered once a month in January, February, March, April, November, and December. *Schedule is subject to change. Activities may be cancelled.
2018 Lake Lucero Tour Schedule
Saturday, January 27 at 2:00 p.m.
Sunday, February 25 at 2:00 p.m.
Saturday, March 24 at 9:00 a.m.
Saturday, April 29 at 9:00 a.m.
Saturday, November 3 at 10:00 a.m.
Saturday, November 24 at 10:00 a.m.
Saturday, December 29 at 10:00 a.m.
Where
The Lake Lucero tour begins 25 miles (40.23 km) southwest of the monument at the Small Missile Range Gate, located on Hwy 70 West between mile markers 174 and 175.
The taking of pictures and/or video recordings of any kind is prohibited on White Sands Missile Range property. Once at the trailhead and on monument property, the ranger will notify you when you may begin taking photos or videos.
Per missile range rules, concealed carry weapons are NOT allowed on the tour.
You will caravan in your own car from the gate to the trailhead 17.5 miles (27.36 km) one-way or 35 miles (56.33 km) roundtrip. It is necessary to have a sufficient amount of fuel and a spare tire in case of a flat.No services are available, and cell phone reception is poor.
Tour check-in begins 40-minutes before program start time at the Small Missile Range Gate.
The caravan will leave promptly at the stated tour start time. If you arrive after the caravan has left, you will not be able to join the tour.
Cost
A special program fee of $8 per person ages 16 and older and $4 per child ages 15 and younger apply. Federal passes such as the America the Beautiful Annual, Senior, and Access passes apply only to the entrance fees and not to the special program fee. Monument entrance fees are not charged for the Lake Lucero program. Monument entrances fees will apply If you choose to enter the monument along Dunes Drive.
Program length
Three hours
Safety Information
No sandals or open-toe shoes are allowed. Closed-toe shoes such as hiking boots or stout walking shoes are required.
The tour is three hours long, two of which will be outside. Bring snacks, sunscreen, hats, and sunglasses for everyone in your group. Dress accordingly for the weather. Long sleeves and long pants are highly recommended even on warm days to protect your skin from the sun.
A minimum of one gallon of water per person is strongly recommended.Dehydration and heat exhaustion can set-in incredibly fast, especially in the summer when temperatures can soar well above 100°F (38°C). You do not have to carry the entire gallon on the hike, but it is strongly recommended that you have at least two liters per person while walking to the lakebed. Rangers will NOT have extra water. Please be prepared for your tour.
The taking of pictures and/or video recordings of any kind is prohibited on White Sands Missile Range property. Once at the trailhead and on monument property, the ranger will notify you when you may begin taking photos or videos.
Per missile range rules, concealed carry weapons are NOT allowed on the tour.

Download a PDF of the safety information in English or Spanish.
Young Children
Due to moderate to difficult conditions (i.e., sun, heat, rough trails, remote location) on this program, it is not recommended to bring young children and infants on the Lake Lucero tour. This trail is not stroller-accessible.
Fitness
The hike from the trailhead to the lake and back is 1.5 miles (2.41 km) long over rough desert terrain and washes. This hike is rated as moderate. The Lake Lucero trail is not maintained. This trail is down an arroyo where the soil is loose and the terrain is uneven. The trail slopes gradually downhill toward the lake, which means the hike back to the cars is gently uphill. Leaving the tour early is prohibited. All guests must enter and leave with the caravan. Participants must be physically capable of walking the entire distance.
Accessibility
The hike to the lake is not wheelchair or stroller accessible.It is not recommended for those with impaired mobility or health concerns. There is a required 17.5 mile (27.36 km) drive (one-way) through a remote location with limited cell phone reception. Emergency medical response will be delay due to the remote location. Health concerns should be carefully considered before committing to this hike.
Service animals are allowed at all monument facilities open to the general public.
Restrooms
Two portable toilets are available outside the entrance to the Small Missile Range Gate and one portable toilet is available at the trailhead.
Seating
Seating is not available on the hike;however, you may sit on the ground at any time during the program if you wish.
Pets
Pets are allowed as long as they are non-disruptive, on a leash no longer than six feet (2 m), and under physical control at all times. Pets, like humans, should leave only footprints. Pick up after your pet(s) and Leave No Trace.
Programs may be canceled due to weather or missile range activities
Weather at the monument can vary drastically and change quickly. The decision to cancel a program due to weather is rarely made more than 30 minutes before the program start time. Call the monument at 575-479-6124 ext. 236 if you would like to confirm that a program is still scheduled. If the program is canceled, it will not be re-scheduled.
Reservations
Reservations are required for this program and must be made through Recreation.gov or by calling (1-877-444-6777). You can make reservations up to one month in advance of the program. Tour fees apply and will be charged by recreation.gov.
For reservations, please note that only one vehicle per reservation is permitted due to limited parking and only five people per reservation are permitted. The Lake Lucero tour is limited to 50 individuals.
Cancelations must be made by calling Recreation.gov at 1-877-444-6777 at least 24 hours in advance of program. Cancelations cannot be processed by monument staff.
Large groups
Reservations are limited. Please be considerate of other park visitors. Organized groups of five or more persons may contact the monument to inquire about a large group reservation. Due to staffing levels at the monument, not all groups may be accommodated.
Carpooling
Please carpool with friends and family due to limited parking and restrictions on the number of vehicles permitted in the caravan to the trailhead. Only one vehicle per reservation is allowed.