Full Moon Night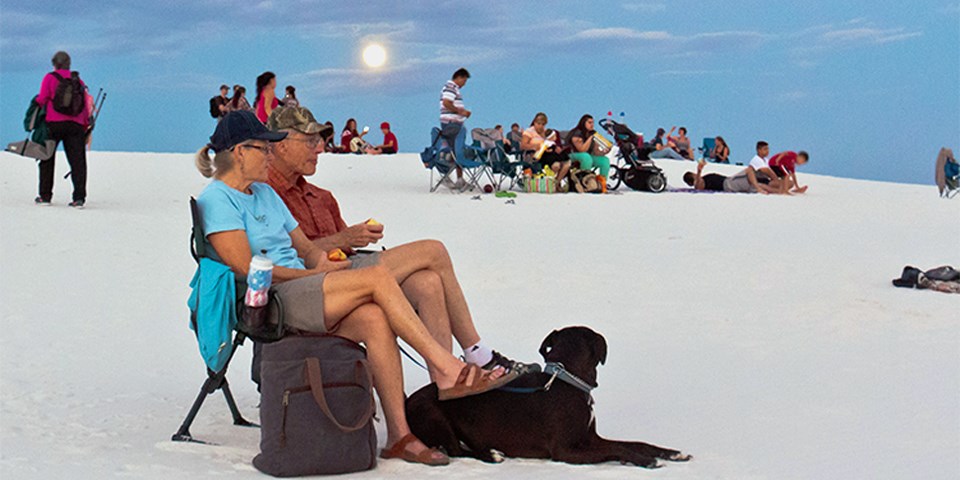 Enjoy the radiance of the dunes beneath a full moon with live music, ranger programs, and special guest presenters and artists. Full Moon Nights share the cultural legacy of Southern New Mexico and Northern Mexico, as well as the rich natural resources of White Sands National Monument.
When
Saturday, May 18 at 8:00 p.m.- Astronomy Night at White Sands
Enjoy a park ranger led program, followed by observing amazing astronomical objects through telescopes.

Monday, June 17 at 8:30 p.m. - 1st Armored Division Old Ironsides Band
The "showpiece" of the 1st Armored Division performs throughout the Fort Bliss area in military ceremonies as well as supporting a variety of community relations and international activities. Displaying a vast array of versatility, the band is capable of performing in any musical setting. Whether they are performing the latest in concert repertoire, marching in military reviews and parades, or performing contemporary jazz, the "Old Ironsides" Band continues to uphold the Motto: "Performance With Pride."

Tuesday, July 16 at 8:30 p.m. - Did the Hunter Gets Its Prey?
Join David Bustos, White Sands' chief scientist, to explore the fascinating story of prey and predators as he takes you through a journey of Ice Age life here at White Sands. Learn the tales of ancient humans, how they hunted, how they lived, and current study of the fossilized footprints found at White Sands are uncovering this riveting story.

Thursday, August 15 at 8:00 p.m. - Iron Will - 1st Armored Division Old Ironsides Band
Iron Will is the 1st Armored Division Band's up-beat popular music group. The group will have you dancing and singing along with their selections spanning R&B, Pop, Classic/Alternative Rock, and much more. Iron Will has performed across Southwestern Texas and abroad, entertaining deployed troops during Operation Iraqi Freedom. Join Iron Will and its innovative style and boundless energy under a moon-filled night.

Saturday, September 14 at 7:30 p.m .- Los Soneros del Valle Bajo
Los Soneros del Valle Bajo is an acoustic trio that specializes in Son Jarocho. The Son Jarocho genre originated in the XVI century when Spanish, Indigenous, and African rhythms fused to create a musical tradition that is central to the Veracruz, Mexico region. Group members include Moe Lopez on stand-up bass, Yahvi Pichardo Garduno on jarana and dance and Leo Martinez on requinto and percussion. Los Soneros del Valle Bajo come together as humble students of the Son Jarocho tradition using traditional instrumentation to explore these afro-indigenous musical roots and create an inviting space for spectators to sing along, dance, and be submerged in a community-led cultural experience.

Sunday, October 13 at 6:30 p.m. - Randy Granger
In celebration of New Mexico's first Indigenous Peoples Day, Native American Flutist Randy Granger will fill the moonlit night with his unique blend of instruments, interpretation of traditional melodies, and heartfelt music. Join this native New Mexican for a relaxing summer evening.

Full moon nights are offered on the night of the full moon from May through October. *Schedule is subject to change. Activities may be cancelled. Parking opens one hour before program start time.
Reservations
Reservations are not require.
Where
Full moon night programs are held in the amphitheater (Evening Program Area), which is a 7-mile (11.27 km) drive from the fee station.
Cost
Program is free. Monument entrance fees apply.
Program length
One to two hours.
Fitness
There is an easy .25-mile (400 meters) walk from the parking area to the amphitheater. There are several gently sloping dunes in the amphitheater that may be climbed.
Accessibility
The amphitheater is an outdoor venue with a compact sand surface in most areas. For the full moon night programs, monument staff set up a wheelchair and stroller accessible ramp near the stage.
There are a limited number of designated spaces for persons with mobility concerns. Only vehicles displaying a disability placard or a disability license plate may park in these designated spaces.
Service animals are allowed in all monument facilities open to the general public.
Restrooms
There are two portable restrooms in the amphitheater area. Vault toilets are also available in other areas throughout the monument.
Seating
Seating is not provided at the amphitheater. You are encouraged to bring camp chairs, blankets, and coolers with food and drinks.Set up on the dunes that surround the amphitheater.
Pets
Pets are allowed as long as they are non-disruptive, on a leash no longer than six feet (2 m), and under physical control at all times. Pets, like humans, should leave only footprints. Pick up after your pet(s) and Leave No Trace. Pets are not allowed in the visitor center.
Programs may be canceled due to weather or missile range activities.
Weather at the monument can vary drastically and change quickly. The decision to cancel a program due to weather is rarely made more than 30 minutes before the program start time. Call the monument at 575-479-6124 ext. 236 if you would like to confirm that a program is still scheduled. If the program is canceled, it will not be re-scheduled.
Parking
The amphitheater opens for parking one hour before the program start time. Full moon nights are very popular; expect a high volume of traffic. Allow an additional 30 minutes to drive from the fee station to the amphitheater area. Park rangers will direct you where to park once you arrive. Please drive slow. When walking in and around the amphitheater area, please be mindful of moving vehicles and use the pedestrian walkways.
Once the amphitheater parking area is full, the lot will be closed, and no other vehicles will be allowed to enter. Additional parking is allowed in the nearby pullout areas, refer to the Dunes Drive map for additional parking areas.
At the end of the program, all vehicles must turn right when exiting to facilitate the orderly and safe departure from the amphitheater parking area.
Buses and Large Passenger Vans
Commercial and recreational buses cannot park inside the amphitheater area due to space restrictions.
Safety Information
There are several safety considerations for the full moon night programs especially since these programs takes place at night, and it can be very dark especially if there is cloud cover. Please…
No sledding in or around the amphitheater parking area during the event.

When walking to and from your car use the pedestrian walkways, not the roadway. People and cars do not mix.

Cloud cover may make the area especially dark. Bring flashlights or chemical light device ("glow stick") to help find your way back to your car.

It is easy to become disoriented in the dark amphitheater area. Always keep your children in sight as they may get lost in the crowd.
Weather in the Tularosa Basin can change quickly. Temperatures can drop very quickly once the sun sets or during storms. Bring extra layers and be prepared for a variety of weather conditions.
July through September is monsoon season. Storms can quickly build. Lightning often occurs in the desert during thunderstorms even if there is no rain. Remember, when thunder roars go indoors. Lightning often strikes the tallest object in the area. Avoid high points (top of a dune) and ground currents (tree roots).If you see a gathering storm or hear thunder, take cover in a metal-topped vehicle with your windows rolled up. Fold your hands in your lap and avoid touching metal objects in your car.
Last updated: July 9, 2019