Driving Dunes Drive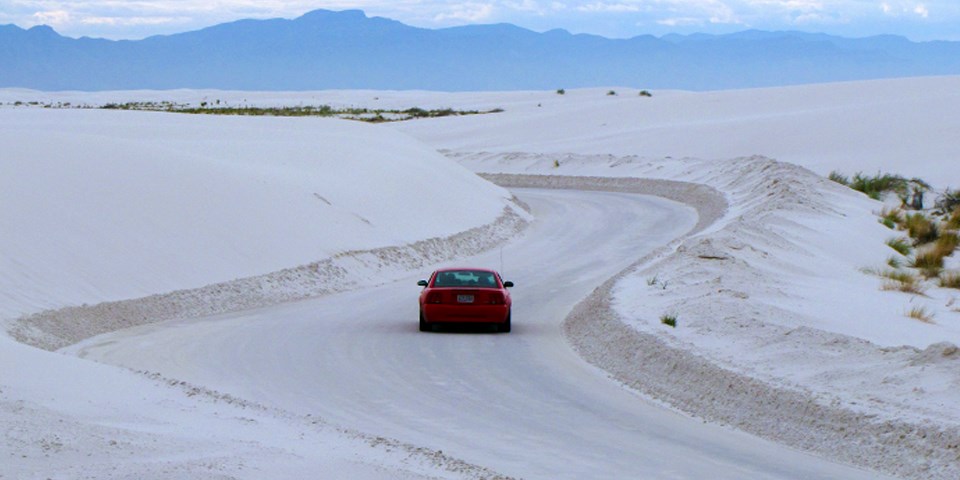 Dunes Drive is an eight-mile (13 km) scenic drive that leads from the visitor center into the heart of the gypsum dunefield. The 16-mile (26km) round-trip drive takes approximately 45 minutes. However, you may want to allow additional time to explore the dunes, take photos, and/or learn about the natural and cultural history of the world's largest gypsum dunefield. Along the road, you will find outdoor exhibits, hiking trails, picnic areas, vault toilets, and parking areas.
The first five miles of Dunes Drive are paved and the last three miles are a hard-packed gypsum sand road. The road is suitable for cars, motorcycles, recreational vehicles, and buses.
Missile Tests and Road Closures
From time to time, White Sands Missile Range performs missile tests that may close Highway 70 to traffic. Depending on the nature of the testing, Dunes Drive may also be closed during missile tests for visitor safety. During these times, the visitor center remains open. Visitors are invited to view the museum exhibits, watch our 17-minute orientation film, and peruse the park store and gift shop while Dunes Drive is closed.
Driving
Motorists must abide all New Mexico motor vehicle laws, such as wearing seatbelts and obeying posted speed limits. Be aware that speed limits vary throughout the park from 45 mph down to 15 mph (72 kph –24 kph) in high visitor use areas. Therefore, be especially vigilant for pedestrians and people sledding near the roadway. Animals may also be on the road, especially during the early morning or evening. Use pullouts to make stops along the road.
Weather
Weather conditions can change drastically—from sudden downpours to dust storms. The road can be slippery when wet especially during the winter. It may also be harder to spot frozen water. For your safety, decrease your speed and brake gently to avoid skidding. Dust storms can drastically reduce visibility. Do not drive during a dust storm.
Gas
The nearest gas stations to the park are located in the town of Alamogordo, 13 miles northeast of the park on Highway 70. Be sure to fill up before coming to the park.
Heavy Equipment
The dunefield is as rugged and untamable as it is scenic and awe inspiring. The strong winds that help create the dunes also necessitate constant road maintenance. Park staff use heavy equipment almost daily to clear sand drifts and grade Dunes Drive. During road maintenance, please slow down, maintain your distance, and wait for an appropriate moment to pass.
Motorcycles/Bicycles
Riding a bicycle or motorcycle through the park offers unobstructed views of an ever-changing landscape and allows your senses to truly experience the sights and sounds of this unique place. Visitors planning to explore by motorcycle or bicycle should be aware that they are only allowed on Dunes Drive and not on hiking trails or off-trail in backcountry areas.
While motorcycles and bicycles are allowed on the road, it is not without its hazards. Expect large buses and RVs on the road, and there are several blind curves along the road. Dunes Drive will frequently have a rough "washboard" surface, potholes, and sand drifts. These hazards may make riding bicycle or motorcycle on Dunes Drive challenging. Obey all traffic regulations and wear bright colors, protective clothing, and a helmet.