Commercial Filming and Still Photography at White Sands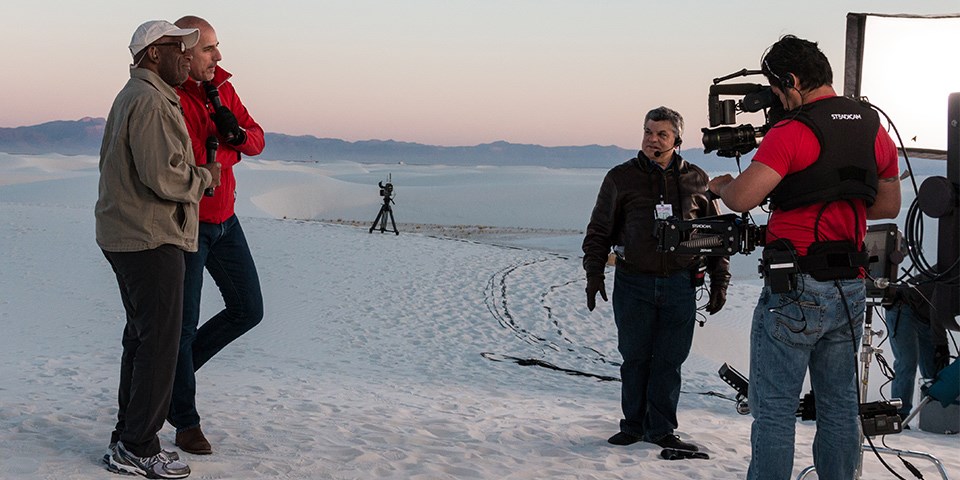 Commerical Filming
Those interested in filming activities at White Sands National Park need to contact the film coordinator at 575-479-6124 ext. 217 or whsa_permits@nps.gov for more information about filming in the park.
Still Photography
When is a permit needed?
Still photographers require a permit only when:
the activity takes place at location(s) where or when members of the public are generally not allowed; or
the activity uses model(s), sets(s), or prop(s) that are not a part of the location's natural or cultural resources or administrative facilities; or
a park would incur additional administrative costs to monitor the activity.
How do I apply for a permit?
Permit applications are available by downloading it here and submitting to the film coordinator at 575-479-6124 ext. 217 or whsa_permits@nps.gov at least 21 days in advance. You should submit a completed application along with the application fee to the park where you want to film or photograph as far in advance of your planned date as possible. In addition, you should request a meeting with park staff if your proposed activity is unusual or complex. Early consultation with park staff will help them process the submitted application in a timely manner.
What fees will I have to pay?
The National Park Service will collect a cost recovery charge and a location fee for still photography permits. Cost recovery includes an application fee and any additional charges to cover the costs incurred by the National Park Service in processing your request and monitoring your permit. This amount will vary depending on the park and the size and complexity of your permit. The application fee must be submitted with your application to be processed.
If You Have Questions - we're here to assist
If you have questions or would like to speak to someone regarding doing a filming activity in the park, we encourage you to contact the Filming and Photography Coordinator at 575-479-6124 ext. 217 or whsa_permits@nps.gov.
Last updated: November 1, 2022