Backcountry Camping Tips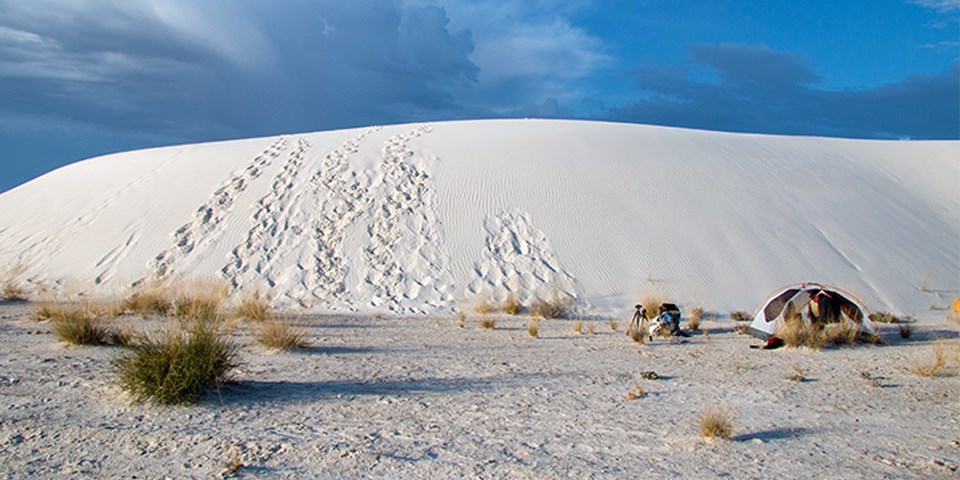 Backcountry camping is currently closed due to rehabilitation of camping sites.
No date has been determined for its reopening.


Special Considerations
Primitive Camping
Backcountry camping is primitive camping. You must be fully self-contained and well prepared for a successful visit. The backcountry camping sites do not have any shade or amenities (i.e., water, restrooms, tables, and chairs). The nearest vault toilet is at the trailhead approximately one mile (1.61 km) away from each site. Once you leave the visitor center, water is not available anywhere in the dunefield.
To reach the backcountry camping sites, you must hike up and over steep dunes in loose sand. Visit the backcountry camping trail page for more information about this trail.
Be at your Campsite by Dark
It is very easy to become lost in the dunefield during the day. A dark night only increases the risk of becoming lost while hiking. Permits are issued until approximately one hour before sunset to ensure you have enough time to hike to and find your campsite before dark.
Quiet Hours
Quiet hours are from 10 p.m. to 6 a.m. Be respectful of other visitors to enjoy the solitude and quite of the dunes. No loud music or noises are allowed at any time of day.
You are Locked in for the Night
The park gates are locked every night approximately one hour after sunset. You cannot leave the park until the next morning when the park opens. Know the park hours of operation before committing to spending the night in the backcountry.
Campfires are not Permitted
Open campfires are NOT permitted in the dunes. Camp stoves are allowed, and they must be elevated at least six inches (15 cm) above the sand. Heat from campfires and camp stoves has melted the sand.
Camping Essentials
For a safe and enjoyable visit, White Sands National Park strongly recommends that you bring following items on your backcountry camping trip:
1. Hydration
A minimum of one gallon (4 liters) of water per person, per day is essential. The last place to fill up your water containers is at the visitor center, which is located six miles (9.66 km) from the backcountry camping parking lot. It is vital that you take enough water to last you through the day and overnight. You will not be able to access water during the night.
2. Navigation
Bring your permit trail map, park map, and a compass. A GPS may be handy but not always reliable here.
3. Sun protection
Wear a wide-brimmed hat, sunscreen with an SPF of 15 or higher, sunglasses, and lightweight, loose-fitting clothing. Long sleeves and long pants help protect your skin from the sun.
4. Communication
Bring a cell phone and portable charger;brightly colored bandana, signal mirror, and whistle. Make sure your cell phone is fully charged when you arrive at the park and bring a portable charger (battery pack if you have one). There are no outlets for electricity available to charge cell phones or other electronics at the park.
While out in the dunes, you should turn your phone off or place in airplane mode. Conserving the battery for emergencies could mean the difference between life and death. In an emergency, call 911 first. Data and cellular strength can vary drastically in the park. For better service, head to higher ground. If you are unable to make a call, try to text a friend who can then call 911 for you. Remember to provide as much detailed information about your location if possible.
5. Illumination
Bring a flashlight or headlamp and extra batteries as the dunes are quite dark at night. It is strongly suggested that you do not wander or leave your campsite after dark. It is extremely easy to get lost in the dunefield after dark.
6. First Aid
Bring a first aid kit tailored to the specific needs of your group.
7. Nutrition
Bring high-energy and easy to prepare food and snacks.
8. Clothing
Bring clothing that can be layered and provide comfort in a variety of weather conditions. Even in the summer, nighttime temperatures can be cool and additional layers will be necessary.
9. Shelter
Your camp must be set-up an hour before it gets dark. A tent is highly recommended. It can provide you with shelter from the weather. Your camp should be set-up within five feet (1.52 m) of the site marker at your assigned site. DO NOT camp on top of a dune. Everyone deserves a great view. Sleeping in your vehicle is not permitted.
More information about hiking safety can be found on our webpage hiking safety tips.
Last updated: May 14, 2022