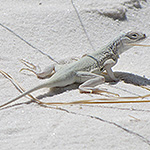 Bleached Earless Lizard
Holbrookia maculata ruthveni
At about four inches long, the bleached earless lizard isn't really earless or bleached. Its name comes from the lighter variation of the common lesser earless lizard. The term "earless" comes from the fact that these lizards do not have external ear openings. Found throughout the dunefield, these lizards like to bury themselves just under the surface in loose, sandy soil. They are identifiable by two black spots on each side. They feast on a variety of insects and spiders.