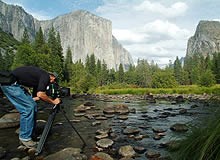 From acclaimed filmmaker Ken Burns comes a visual masterpiece on America's National Parks. Viewers will be inspired not only by the breathtaking scenery, but by the stories of the courageous and visionary people who worked to establish the national parks, preserving and protecting America's natural and cultural heritage for all to enjoy . Filmed over the course of more than six years at some of nature's most spectacular locales — from Acadia to Yosemite, Yellowstone to the Grand Canyon, the Everglades of Florida to the Gates of the Arctic in Alaska — the heart of the story is nonetheless a story of people from every conceivable background — rich and poor; famous and unknown; soldiers and scientists; natives and newcomers; idealists, artists and entrepreneurs; people who were willing to devote themselves to saving some precious portion of the land they loved, and in doing so reminded their fellow citizens of the full meaning of democracy. Burns' film is sure to inspire the imagination by helping viewers to discover the hidden beauty of our national treasures, to better understand the amazing history behind their establishment, and to offer us a rare glimpse into the wonder that awaits us as we visit our parks. The National Parks: America's Best Idea is directed by Ken Burns and written and co-produced by his longtime friend and colleague of twenty years, Dayton Duncan. The series begins September 27, 2009 on PBS and is comprised of six episodes, each of which will run two hours in length.
Please click here for more information and to watch a PBS preview of the National Parks: America's Best Idea
Please help us make America's Best Idea even better. Join us for a national day of service and celebration in our 391 national parks. You can support your park by volunteering for the 17th annual Pick Up Lake Litter Day on September 26, an event celebrating National Public Lands Day and the National Coastal Cleanup effort.