Oak Bottom Water Ditch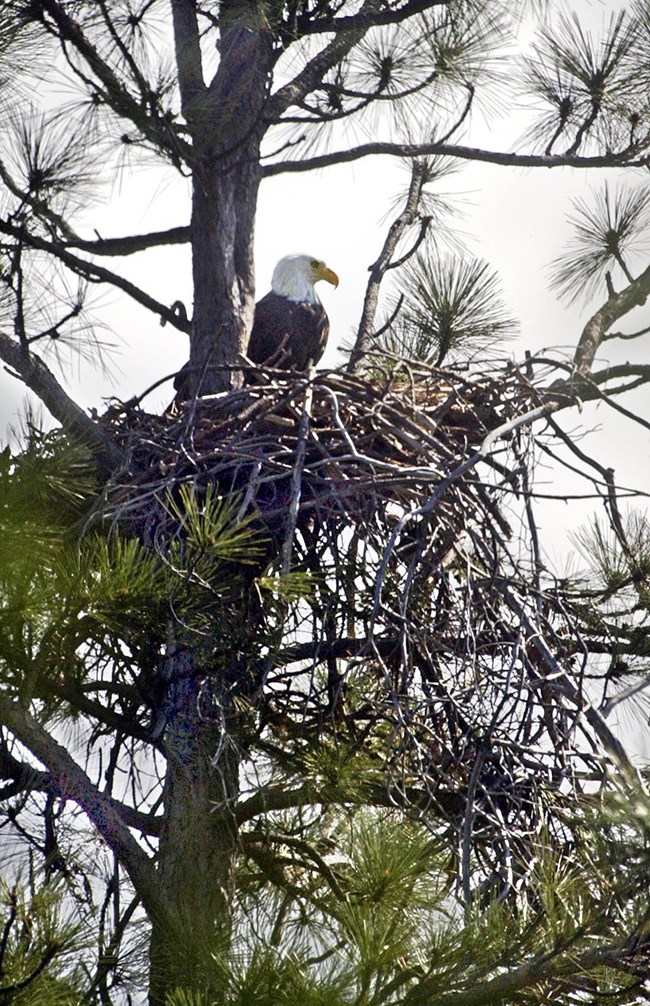 Difficulty level
Moderate.
Mostly flat with some short up and downs.
Gravel and dirt surface.
Trail width of three to seven feet.
Dogs required to be on leash.
Length
2.7 miles one way
Elevation
1220 to 1240 feet
Enter at your own risk
The Carr Fire burned through 98% of the park's forested lands in the summer of 2018. Be aware of hazards created by the fire, including falling trees and limbs, burned out stump holes, abandoned mine features, and loose rocks. Watch the weather and do not hike if rain is forecast. Rain storms present the possibility of flash flooding, landslides and debris flows in the fire area. Stay on established roads and trails and report hazards to park dispatch, (530) 242-3431.
Directions
From Highway 299, take the turn for Oak Bottom. In about 100 meters, the Oak Bottom Water Ditch Trailhead is on your right. The trailhead can be identified by a small kiosk and dirt parking lot. If you pass the campground store or the turnoff for Oak Bottom Tent Campground, you have driven too far. Be sure and lock your vehicle and take valuables with you. Please purchase an entrance pass to avoid a fine.

Trail Description and Highlights:
Oak Bottom Water Ditch Trail is a mostly flat trail that parallels the western arm of Whiskeytown Lake from the Oak Bottom area to the Judge Francis Carr Powerhouse area. Because it is the only trail in the national recreation area that goes directly along the lakeshore, it is the park's best trail for birding. Bald eagle, osprey, green heron, bufflehead duck (scroll to bottom of page for photo), American coot, Canadian geese, mallard, and other species that rely on the lake for their survival can sometimes be seen or heard from the trail.

The trail lies directly on top of a historic water ditch. Why was a water ditch built next to a lake? It wasn't! The water ditch was built 100 years before Whiskeytown Lake existed, when the area was a valley with Clear Creek flowing through it. Historically, Oak Bottom Water Ditch was more commonly known by two other names, Clear Creek Canal and Great Water Ditch ("canal" and "water ditch" are two words that describe the same thing). The water ditch loosely paralleled Clear Creek for 41 miles, bringing water all the way down to the mining community of Ono, south and east of present-day Whiskeytown National Recreation Area.

Fun Fact: a trail in the southeastern corner of the park is called Clear Creek Canal Trail. The Clear Creek Canal Trail travels on top of the same water ditch system as Oak Bottom Water Ditch.

Along Oak Bottom Water Ditch Trail, you can see mountains across the lake. Shasta Bally is the highest mountain in the park and is the mountain you'll often see with snow on it in winter and spring. It is 6,199 feet above sea level, or about 5,000 feet higher than the water ditch trail. "Bally" is a slight corruption of the Wintu word for mountain; Whiskeytown National Recreation Area is located entirely within the homeland of the Wintu. Scroll down for a springtime photo of Shasta Bally as seen from Oak Bottom Water Ditch Trail.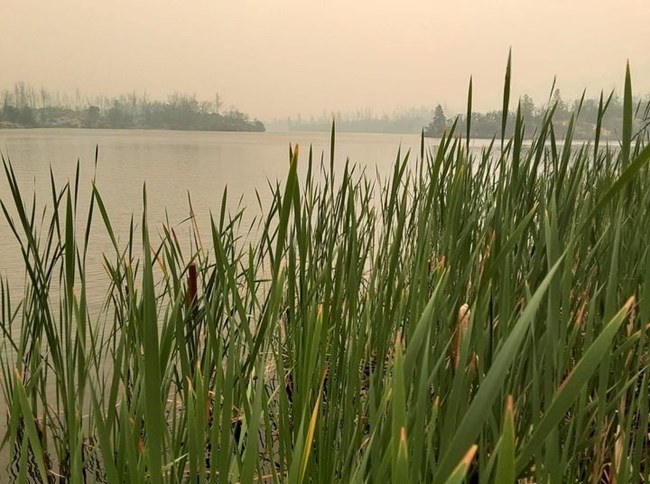 Green cattails and Whiskeytown Lake juxtaposed against a smoky sky. Photo taken from Oak Bottom Water Ditch Trail, August 2021.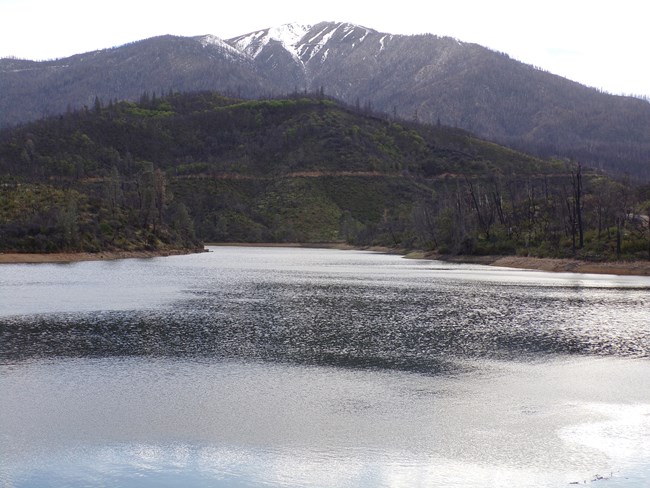 Shasta Bally and Whiskeytown Lake as viewed from Oak Bottom Water Ditch Trail in April 2021.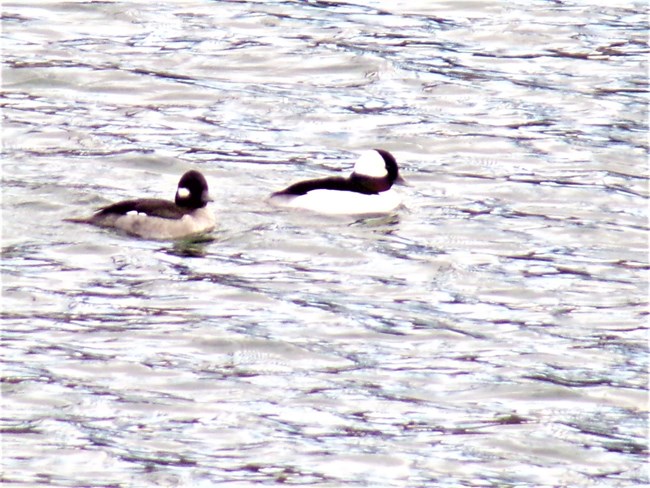 Bufflehead ducks on Whiskeytown Lake as viewed along Oak Bottom Water Ditch Trail. April 2021.
Last updated: September 13, 2021