Plan Your Visit
Plan your visit to Whiskeytown National Recreation Area by clicking on one of the links below:
Whiskeytown Lake was created by diverting water through tunnels and penstocks from the Trinity River watershed. Aside from the lake, the most prominent landmark within the national recreation area is Shasta Bally (elevation 6,209 feet). This highest of mountains in the park steeply soars 5,000 feet above the lake.

The park is officially designated as Whiskeytown-Shasta-Trinity National Recreation Area, with the Whiskeytown Unit being administered by the U.S. National Park Service and the Shasta and Trinity units administered by the U.S. Forest Service. At Whiskeytown, personal watercraft (water-skiing) are prohibited. However, personal watercraft are allowed in the Shasta and Trinity Units.

Lake-based recreational opportunities such as swimming and boating are Whiskeytown's primary focus during the hot and dry summer months. The park offers highly popular ranger-guided kayak tours. Other ranger-guided programs are also offered. Spring and fall shoulder seasons bring more pleasant weather for hiking, mountain biking, and horseback riding. Winters can be rainy but temperatures are usually above freezing.

Whiskeytown Lake includes 36 miles of shoreline and 3,200 surface acres of water. The lake is popular for the following activities:
Swimming
Boating
Water skiing and Wakeboarding
Fishing
Scuba diving
Paddling
Along the shoreline of the lake and throughout the rest of the park, popular activities include the following:
Picnicking
Hiking
Mountain biking
Horseback riding
Trail running
Photography
Wildlife viewing
Exploring California Gold Rush history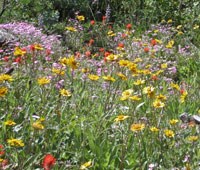 Whiskeytown is an All Seasons Park with year-round recreation opportunities. Winter can be rainy but sunny winter days allow you to get out into the park at its least-visited time. You'll often have a trail or section of lake all to yourself. February through May is spring wildflower season and opportunities for horseback riding, hiking and mountain biking abound during this time before the summer heat.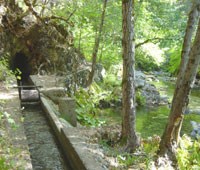 Whiskeytown's hot summer lures visitors to the lake for swimming, fishing, kayaking, stand-up paddleboarding, beach play, sailing, water skiing, scuba diving, and motorboating. Hikers can find slight refuge from hot days hiking alongside rushing creeks and visiting waterfalls.
Public transportation is not available to the park or within the park. Main park roads are paved, but backcountry roads are dirt and high clearance vehicles are suggested.

Last updated: September 24, 2020