Guardian Rock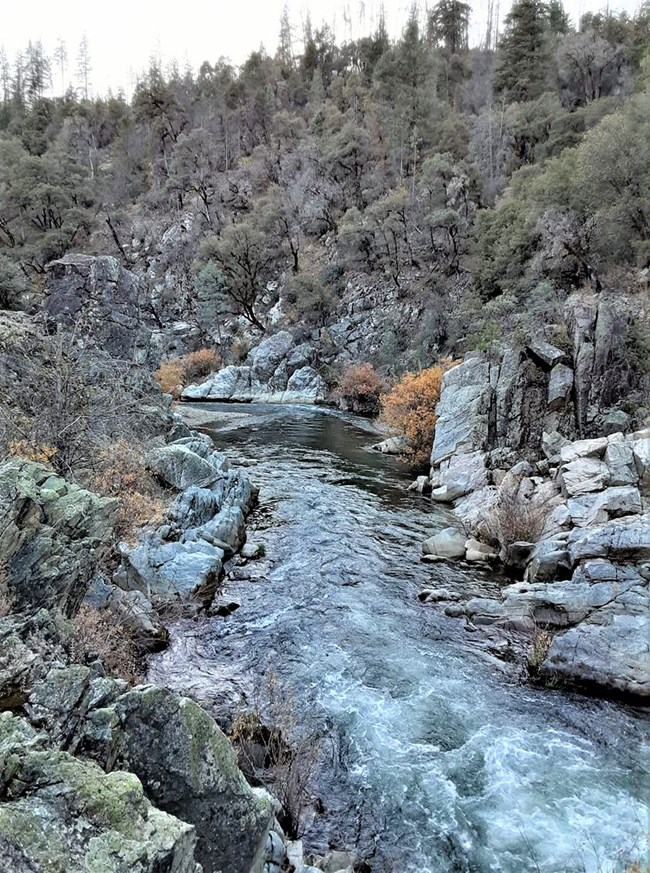 Difficulty
Easy and Paved for first 0.25 miles; Moderate thereafter.
Paved section is approximately 6 feet wide.
Moderate section is on gravel and dirt and is two to 8 feet wide.
To protect your dog and park wildlife, please put them on leash.
Length
1 mile one way, from Horse Camp to Whiskeytown Environmental School (NEED Camp) entrance bridge.
Directions
From the Whiskeytown Visitor Center, drive south on Kennedy Memorial Drive for about one mile. At the Kennedy Memorial, just before driving across the Clair A. Hill Whiskeytown Dam, turn left onto Paige Bar Road. Continue on this road for approximately two miles. You'll drive past the Mount Shasta Mine Trailhead and Whiskeytown Cemetery. When the road forks, turn left onto the gravel road. After about 0.3 miles, you come to two large campsites and a vault toilet. This is Horse Camp which also serves as the trailhead for Guardian Rock Trail.

water spigot is located across the gravel parking lot. Be sure you are displaying your entrance pass in your vehicle and be sure and lock your vehicle and take valuables with you.
Trail Description & Highlights
The first 0.25 miles of Guardian Rock Trail is flat and paved. The pavement leads to a viewpoint of Clear Creek Canyon. There is shade and a bench to relax at here and you can enjoy what author Wallace Stegner referred to romantically as "The sound of mountain water."

After this viewpoint, the pavement ends and the trail becomes rocky and rugged, like the creek canyon itself.

In a couple of moments, a sign tells you to go straight for Guardian Rock or to turn right for the easier mountain biking and horseback riding trail. If you go straight for Guardian Rock, be on the lookout for a steep and informal path down to a gravel bar on Clear Creek. Take this path if you feel comfortable doing so; be careful not to touch poison oak!

At the gravel bar, you can hear and see the swift-moving water of Clear Creek. Stick your hand in the water and feel how cold it is - this water comes from the bottom of Whiskeytown Lake and it's about 45 to 50 degrees! The cold water is important because it is the temperature that salmon need to spawn in the Sacramento River and Clear Creek. If water was only released from the top of the lake, which is much warmer, salmon could not survive.

Sticking up slightly out of the gravel bar is Guardian Rock itself ((scroll down the page for a photo of this small rock feature). To some people, this small boulder resembles a human head. Before major salmon habitat restoration efforts began, Guardian Rock was a bit more prominent. To restore gravel habitat on the bed of Clear Creek (gravel is needed for salmon to protect their eggs), gravel has been dumped into the creek upstream, and this gravel gets pushed down during annual springtime simulated flood events that mimic the process of nature. This gravel bar has been created over the years from these "gravel injections," and so perhaps Guardian Rock stands guard over the salmon.

Continuing on, the trail parallels the rocky, rugged Clear Creek Canyon, ending at the road bridge entrance to Whiskeytown Environmental School. At this point, turn around and follow your footsteps back to the trailhead at Horse Camp or turn right onto the roadway to make the hike into a 1.5 mile loop. If you turn right onto the paved roadway, in about 100 meters, just up the hill, turn right onto the gravel road, Paige Bar Road, and follow this back to the trailhead.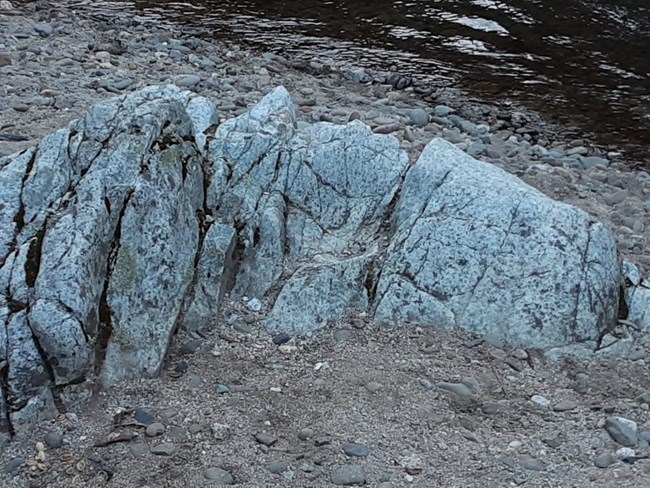 At right: Close up view of Guardian Rock. Looking at this small boulder sideways, you might see what resembles to be a human head - can you spot the eyes, nose, mouth, and chin?!
Last updated: September 10, 2021