Fishing at Whiskeytown NRA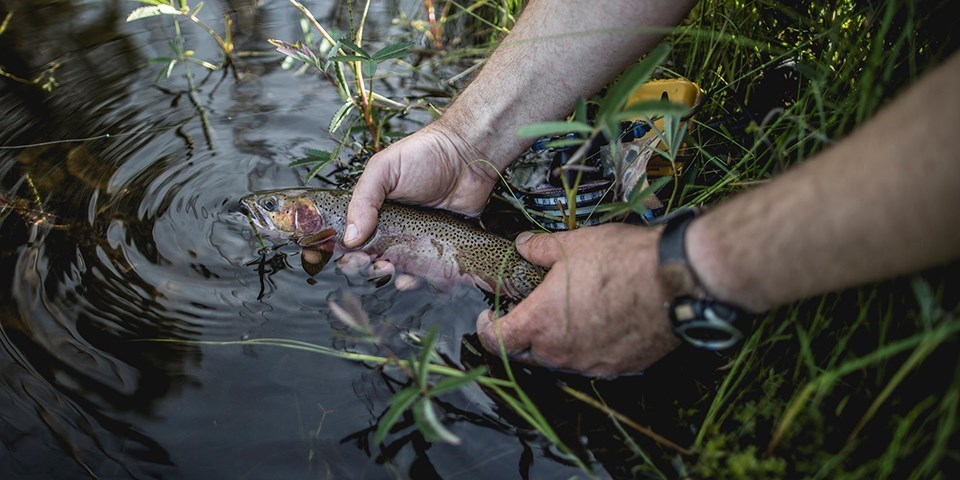 What comes to mind when you think about fishing? Patience, relaxation, challenge, and memories are a few words often associated with fishing. You will find all that and a sense of stewardship, conservation, and preservation on this page. We want you to have an enjoyable time during your visit, and for those who come after you to fish. Take some time to explore, learn what the park has to offer and learn your responsibilities before casting a line or flicking a fly into the water.
Licenses
A Fishing License from the California Department of Fish and Wildlife is needed for anyone age 16 years or older to fish in the park. Follow this link to find out more about different types of licenses and specific regulations California Department of Fish and Wildlife. The nearest location to obtain a fishing license is Rite Aid at 1801 Eureka Way, Redding, CA.
Fishing Regulations
Fishing regulations at Whiskeytown National Recreation Area are established by the state of California. Some pertinent regulations are as follows:
Live or dead minnows or other bait fish, amphibians (such as frogs) and non-preserved fish eggs or roe are not allowed to be used as bait.
Stream fishing season is between the last Saturday in April until November 15. Streams are defined as waters entering the lake above the last riffle and Clear Creek below Whiskeytown Dam.
Clear Creek below Whiskeytown Dam is catch and release only. Barbless hooks and artificial lures must be used.
Daily limits are as follows: 5 kokanee salmon and 5 trout of any species, any combination of 5 largemouth, smallmouth or spotted bass, any combination of 25 sunfish (crappie and bluegill). Bass species must be 12" or larger in length.
Trout and salmon species may only be fished for during daylight hours; defined as one hour before sunrise until one hour after sunset.
Fish Consumption Advisories in National Park Waters
The Environmental Protection Agency, states, territories, and tribes provide advice on fish and shellfish caught in the waters in their jurisdiction to help people make informed decisions about eating fish. Advisories are recommendations to limit your consumption of, or avoid eating entirely, certain species of fish or shellfish from specific bodies of water due to chemical or biological contamination.
Fish is part of a healthy balanced diet, but eating wild fish caught in park waters is not risk free. Parks are "islands", but the much larger "ocean" that surrounds them affects the natural resources inside a park. Studies have shown that some fish within Whiskeytown Lake have elevated levels of mercury, most likely as a result of historic mining activities. Due to the elevated mercury levels, the following recommendations have been made by the California Environmental Protection Agency's Office of Environmental Health Hazard Assessment (OEHHA):
Women ages 18-49 and children ages 1-17 should not eat Sacramento Pikeminnow. They may safely eat a maximum of seven total servings per week of Brook Trout, or two servings per week of sunfish species, or one serving per week of black bass species or Sacramento Sucker.
Women ages 50 and older and men ages 18 and older may safety eat a maximum of seven total servings per week of Brook Trout, or six servings per week of sunfish species, or two servings per week of black bass species or Sacramento Sucker, or one serving per week of Sacramento Pikeminnow.
One serving is an eight-ounce fillet, measured prior to cooking, which is roughly the size and thickness of your hand. Children should be given smaller servings.
For fish species found in Whiskeytown Lake that are not included in this advisory, OEHHA recommends following the statewide advisory for eating fish from California lakes and reservoirs without site-specific advice.
For further information regarding fish consumption from Whiskeytown Lake, please see the following
advisory
.
Aquatic Invasive Species
Imagine your favorite fishing spot and the wonderful memories. Things may look fine but underneath the surface there is a serious threat. Everything you remembered is now cemented together in a sharp, smelly mess. Invaders have wiped out the fish species you used to catch.

Aquatic invasive species are not native to an ecosystem. Their introduction causes, or is likely to cause, harm to the economy, the environment, or to human health. Aquatic invasive species are a growing risk to parks and their values. In the United States alone, there are more than 250 non-native aquatic species.

For many centuries, humans have contributed to spreading non-native species around the globe. You can make a difference. To learn more about Aquatic Invasive Species in the National Park Service, visit the Fish & Fishing website.
How You Can Help – Stop Aquatic Hitchhikers
To prevent the spread of aquatic invasive species, people launching vessels at any body of water are subject to watercraft inspections and are strongly encouraged to clean, drain and dry their motorized and non-motorized boats, including personal watercraft, and any equipment that comes into contact with the water before and after recreating.
Take the following steps both before traveling to and before leaving a waterbody to prevent spreading invasive species, improve your experience and safeguard California waterways:
CLEAN — inspect exposed surfaces and remove all plants and organisms,
DRAIN — all water, including water contained in lower outboard units, live-wells and bait buckets, and
DRY — allow the watercraft to thoroughly dry between launches. Watercraft should be kept dry for at least five days in warm weather and up to 30 days in cool weather.
Frequently Asked Questions for Fishing at Whiskeytown NRA
Follow this link to download a copy of
Fishing - Frequently Asked Questions
Fishing Throughout the National Park Service
We invite you to visit the Fish and Fishing website for more information about fish and fishing in the National Park Service. You will learn about conservation, different fish species, and parks that offer fishing.

Last updated: December 18, 2020