A Climate Friendly Park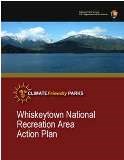 Whiskeytown recently became a member of the Climate Friendly Parks (CFP) program and is initiating a transition toward a higher degree of sustainable operations. In collaboration with the Environmental Protection Agency, the National Park Service has developed the CFP program to provide parks with management tools and resources to address climate change within park boundaries and throughout the surrounding communities.
With the help of the CFP program, Whiskeytown developed an
Action Plan
that will rein in greenhouse gas emissions by establishing specific emission reduction goals and processes by which to achieve them. With a target date of 2016, and based on emissions levels measured during a 2007 inventory, the goals outlined in the CFP Action Plan are:
Reduce both transportation and energy emissions from park operations by 20 percent
Reduce waste emissions by ten percent
Reduce the park's total emissions ten percent, including those produced by visitors and the park's concessionaire.
While the action plan includes an increasing use of technological innovations such as photovoltaic systems, lighting sensors, energy-efficient vehicles and appliances, and low-E double-paned windows, the most substantial emissions reductions will ultimately come from the choices made by employees, visitors, volunteers, and the concessionaire working in and visiting the park.
Park managers are now incorporating climate-friendly behaviors into sustainability planning and are working to increase public awareness of climate change mitigation strategies through park programs and community outreach. If you would like to learn more about climate change in your national parks, please visit the
National Park Service Climate Change Response Program
website.
Last updated: March 1, 2015