Obi Kaufmann - Spring 2023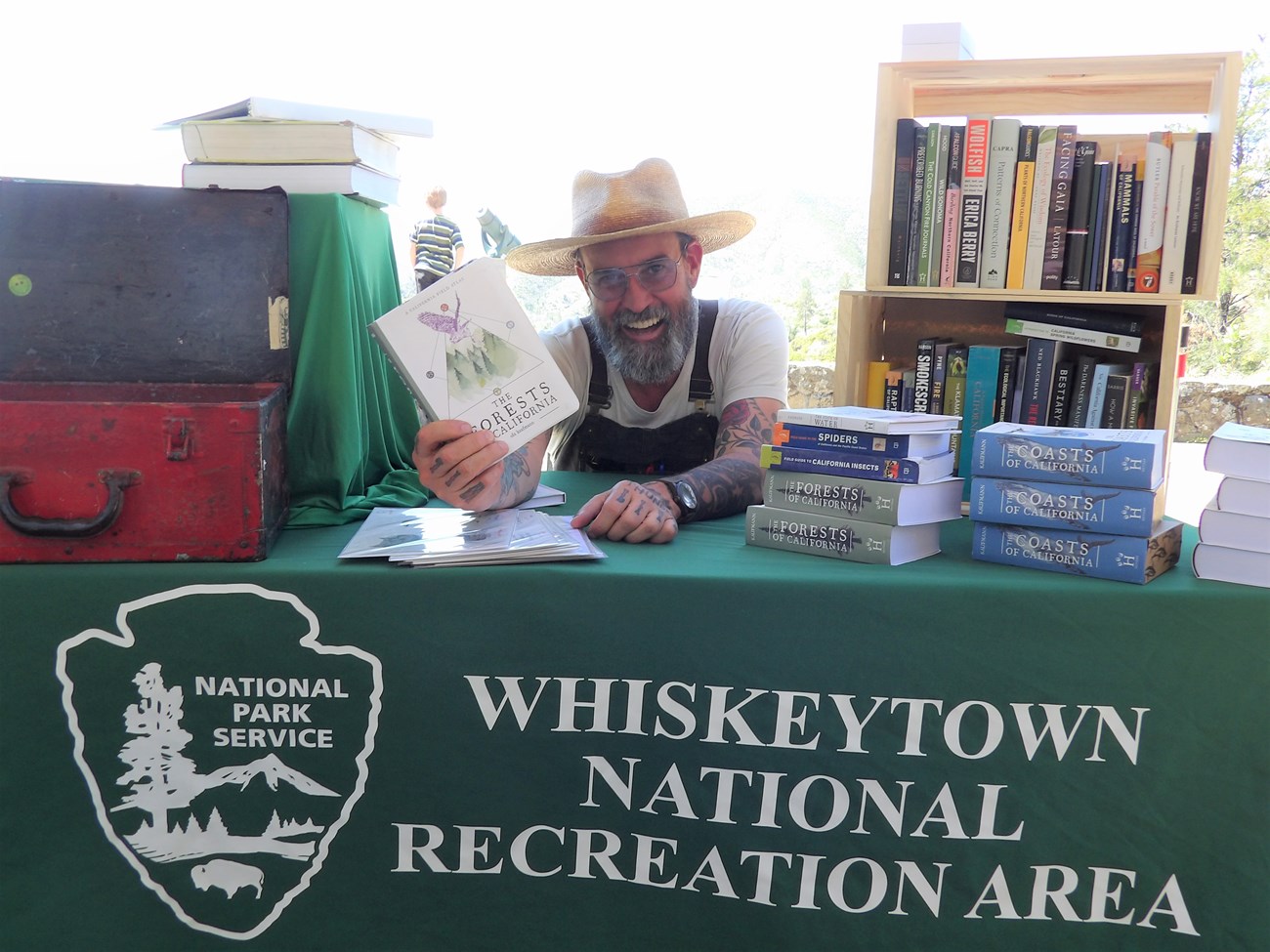 0
Obi Kaufmann is a naturalist, painter, and writer focused on California ecology. For two weeks in May 2023, Whiskeytown National Recreation Area had the pleasure of hosting Obi as an Artist-in-Residence. During these two weeks camping in the park, among other things, Obi shadowed Whiskeytown's Rare Plant Survey Crew and was able to learn about and artistically document some of the newly discovered rare, endemic, endangered, and/or new-to-science plant species, all found and recorded in the aftermath of the Carr Megafire of 2018. Obi also:
Shadowed the park's Invasive Plant Management Team

Took a hike to Whiskeytown Falls with Superintendent Josh Hoines

Learned about Whiskeytown's fire management program and the challenges therein with Fuels Treatment Specialist & Assistant Fire Management Officer Adam Zaharris.

Conducted an Author Talk outside the Visitor Center

Wrote about his experience on his CoyoteThunder Instagram account.
While Obi's paintings of rare plants will be forthcoming to this webpage, below are his Instagram writings during his residency at Whiskeytown.Obi's Writings about Whiskeytown on Instagram.
Obi's Writings about Whiskeytown on Instagram (CoyoteThunder)
May 14, 2023
Day one of the backcountry artist residency with the National Park Service. I'm here at @whiskeytownnra at the moment when the seasons blink between spring and summer. Water is everywhere, informing a delightfully audacious portfolio of wildflowers across this scarred land that is catching its breath from the gut-punch wildfire that moved through four years ago. This place is remembering itself; at once ancient and new. Because of the abundant water, there is a song in my mind, echoed in the wind that is relishing summer as a reward and not the threat it so regularly is. Tomorrow, I have my first meeting with the rare plant botanists. Stay tuned. As I write this, I've finished my broccoli and pepper stir fry and it was delicious.

May 15, 2023
Phone says I did twelve miles but I'm not sure if I believe it. Seems to me that the day was spent wrestling with Octavia Butler about the future of humanity, having just devoured her incredibly prescient "Parable of the Sower." The ashen, flower-filled blanket of the forest is folding around me, casually claiming me as its own. My enchantment is complete, and I am in love and yet I have little idea what I am actually looking at. The resurgent, vernal forest after the fire reads like a poetic backdrop for an infinite city of songbirds and drunken bumblebees madly attending their wildflower paradise. The attitude of the place belies the gray and black color of the tree-bone trunks, now claimed as avian apartments… Inside these claimed snags, untold thousands of nests hold a million dreaming infant birds, awaiting their turn to sing their people's song. Meanwhile, if you need me for anything, I'll be floating in the snowmelt river under blazing sun. @whiskeytownnra

May 16, 2023
What is rare is precious. This is where and what the true gold is. The true, value-legacy of California is held in its singular, world-class biodiversity. In another day of "rare plant surveying" inside the miracle of this vernal moment, I sense that every bit of floral life aches to monopolize on the perfect day and the community of life presented is an exquisite panoply of vitality and resilience.

Across the shade-less and sun baked, greenstone soil of the Whiskeytown chaparral, the NPS crew (led by the kindly and excellently knowledgeable field botanist Chris McCarron) tread lightly to find rich, botanical treasure at every turn. With my pen madly trying to keep up with the binomial species names being tossed around as one after the next seems to call out to us at every step, we turn to the philosophy of what all of this beauty might mean to us and our human community.

I'm reminded of my podcast partner Greg Sarris says about the indigenous posture to the naming of plants and the ethnobotanical value present in such a reciprocating act: "if we don't remember their names, they are not going to remember how to feed and take care of the people." @placeandpurposelive @thegregsarris @mccarron.c @whiskeytownnra

May 17, 2023
I am working on the wavelength between analysis and synthesis. Somewhere between the micro and the macro is where I currently, uncomfortably sit. Details are important and so is the stillness in attending to this holistic vision. Still enough to glean the vernal pulse across this unique grassland as a rather symphonic din of activity. The whole, living mountain sways with the ambition of uncounted organisms, ecstatic with opportunity, all vying for some peak of fitness and inclusion.

The rare plant survey continues, and while it is such a freakish and giddy novelty for me, for the National Park researchers who let me tag along, it is all in a normal day's work. I'm so appreciative to the NPS crew at Whiskeytown who are giving me the Cook's tour and don't seem to mind my endless questions or even a long foray into ecological philosophy on picking apart what the meaning of "value" applied to any particular "resource" may or may not be.

In the wake of the megafire four years ago, the challenge that the invasive species offer is the possible return of fire, now that the forest of snags have all dried and are primed.

The understanding of native grassland habitat reveals now to be a window of time when the seed-bank of the invasives may be treated without destroying the seed-bank of the desperately endemic, associating native species that may just benefit from such remediation. The strategy is deep and nuanced and resembles a military campaign in many regards. Preserving biodiversity means prioritizing the endemic, the rare and the precious species who still manage to hold on, despite centuries of ecological pollution and injury.

Thanks again to the staff at @whiskeytownnra, especially @mccarron.c and the rest of the Invasive and Rare Plant Species Crew.

May 20, 2023
I've stumbled into a manuscript I wasn't expecting…A surprise book based on my time as the Artist in Residence at Whiskeytown National Recreation Area (the park). It's California's story, its beating heart in sixty-ish square miles of engineered and deformed landscape regimes of water and fire that somehow still exhibit an extraordinary portfolio of endangered and endemic biodiversity. Between the Sacramento River Valley to the east, Shasta to the north, the Trinity Mountains to the west and the coastal ranges to the south, this physiographic hub has unique geologic and climatic qualities found nowhere else in state. Four hundred-million-year-old soils get blasted with sixty inches of rain in the winter only to cook under weeks of temperatures in excess of one hundred and ten degrees in the summer. The park is not wild. Having been stewarded and manipulated by anthropogenic stress for tens of thousands of years, there is little that is natural here, meaning that every species here exists in some relationship to human design and effort. I've got another week in the backcountry and then I'll begin to reveal the work. I know there is a fascinating story here somehow related to cultural responsibility and resources… a very strange and complicated word. We'll see how I do. @whiskeytownnra

May 25, 2023
Camping for a couple of weeks agrees with me. It's been a minute since I've had the opportunity to do so. My cook's tour of Whiskeytown inside this residency for and with the National Park Service continues. By way of this immersion, what was for the first several days, a confusing array of energies on a land that I didn't know and felt only tangentially acquainted with, has evolved quickly to familiar niche forms of relationships in the landscape that I've come to love. Today's hike with superintendent Josh Hoines was brilliant. I'm going to write an essay about it, just to work out in my head all of the priorities he has to juggle on a daily basis. While I meditate on flower structure and biodiversity, Josh calculates strategies for years to come that must balance a multitudinous catalog of priorities. There are no easy answers out here, but for now, in this radiant window at the end of spring, there is a wealth of joy. @whiskeytownnra
Last updated: June 1, 2023