Carrie Katzenmeyer - Spring 2023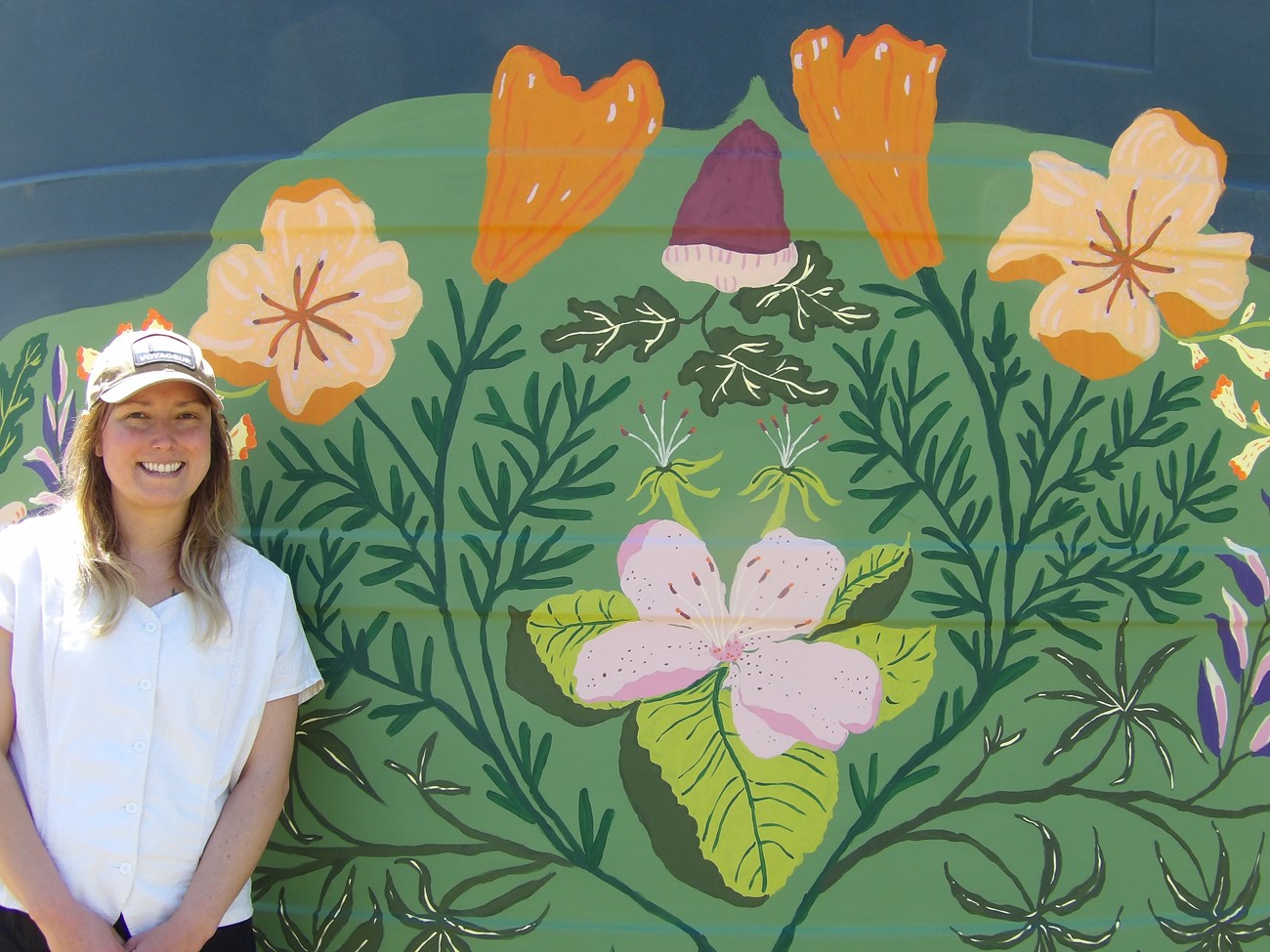 In May 2023, Carrie Katzenmeyer completed her Artist-in-Residence at Whiskeytown. During her two weeks in the park, Carrie created a mural inside the Tower House Historic District spotlighting Whiskeytown's botanical heritage. Here is Carrie's Artist Statement about her mural:

"It was such an honor to paint the water tank located at the Tower House Historic District of the park. This part of Whiskeytown is so rich with history and beauty. I wanted to include all of the things that make this place beautiful, from the Wintu tribe with acorns, to the rare apple trees that survived the Carr Fire, to the native wildflowers. I'm so honored to now be a part of the history here too in this wonderful tiny piece of the world. I had such a dreamy experience at Whiskeytown and this place will always hold a special place in my heart. Since I have to go home to Minnesota please come to enjoy all the beautiful hikes and waterfalls for me!"
Identify That Plant!
Carrie's mural depicts several plant species significant to Tower House Historic District and Whiskeytown National Recreation Area. Head out to the mural, pull up this webpage on your cellular phone, and then quiz yourself - looking at Carrie's mural, match the plant description below with the name of the plant.

I bloom pinkish white in spring and smell wonderful. Levi Tower and Charles Camden planted many of me in the 1800s, some of which still survive and produce my fruit!

Salmon from Clear Creek and the Sacramento River was a staple part of the Wintu diet, and so too were acorns produced from this type of tree. Acorns were collected in abundance and then mashed up and cooked with water to create acorn soup and acorn bread. The Wintu were here first and despite all odds, they still reside in Shasta County.

"The Golden Poppy is God's gold." So notes the first line of Joaquin Miller's late 1800s poem titled California's Cup of Gold (Miller lived in the area for a time). Also known as the golden poppy, this is California's state wildflower. The Wintu and the Camdens undoubtedly saw these orange-blooming flowers during the historical period of Tower House Historic District.

One of numerous native wildflowers within the park, this one blooms purple in spring. Its leaves are silverish-green in color.

Names of the plants to choose from: Oak Tree, California Poppy, Apple Tree, Lupine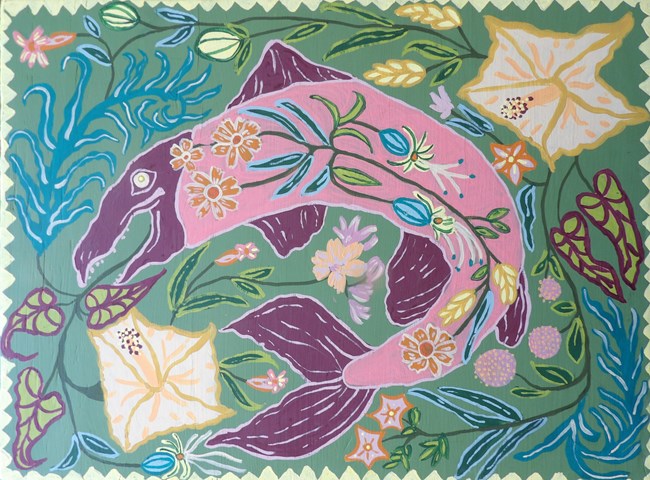 Saving Endangered Salmon
In addition to the mural, Carrie painted this depiction of an adult Chinook salmon on Lower Clear Creek. In this painting, the pink-colored salmon is surrounded by botanical elements. Carrie was inspired to paint the salmon after reading the wayside exhibit spotlighting the Wintu use of salmon at Clear Creek Gorge Overlook, a viewpoint on the park's Guardian Rock Trail. Chinook salmon are a federally-listed endangered species;
the park is actively working with several partners to restore their habitat
below the Clair A. Hill Whiskeytown Dam.
Last updated: May 22, 2023