Things To Do
You'll find lots to do at Weir Farm National Historic Site all year long.
Experience Art in the Park
View original works of art throughout the park or pick up a pencil or paint brush yourself. From beginners who borrow our free-to-use supplies, to local plein air painters, to the park's Artist-in-Residence, thousands of works of art are created here each year. Participate in one of our many free programs and be part of the artistic legacy of Weir Farm. Find details here.
Tour the Weir House, Weir Studio, Young Studio and Painting Sites
The Historic Weir House, Weir Studio and Young Studio are open seasonally, Wednesday through Sunday. Sign up for tours in the visitor center; space is limited.

You can also roam at your own pace to learn about the artists and discover their painting sites. Pick up self-guided tour brochures on the visitor center porch.

Please note: Flash photography, tripods, food, drink, strollers, or umbrellas are not permitted in the Weir House. The Weir House is wheelchair accessible.
Explore the Gardens and Grounds
Stroll through gardens and grounds, complete with beautiful stone walls, and come away with ideas for landscaping your own corner of the world. Pick up information on the visitor center porch.
Take a Hike
Numerous hiking trails enable you to explore the woods, open fields, and pond at Weir Farm. You'll quickly discover the painterly landscape that has attracted artists to this property for more than 130 years. Bordering the park is the 110-acre Weir Preserve, which offers a network of trails maintained by the Weir Farm Art Center. Pick up maps on the visitor center porch.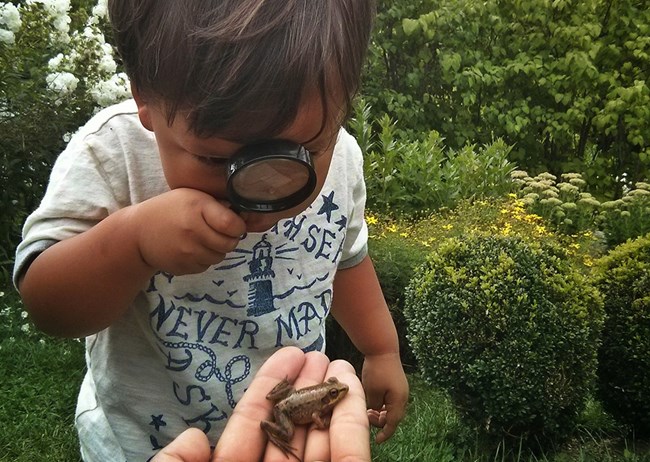 Bring the Kids!
We have a variety of Junior Ranger activities to engage children at the park. Kids earn a badge and patch for completing various activities.
Stop in the Visitor Center and Museum Store
Get oriented to the park, buy a souvenir, and see the current art exhibit. Open seasonally, Wednesday through Sunday.


Last updated: April 20, 2020