Current Exhibit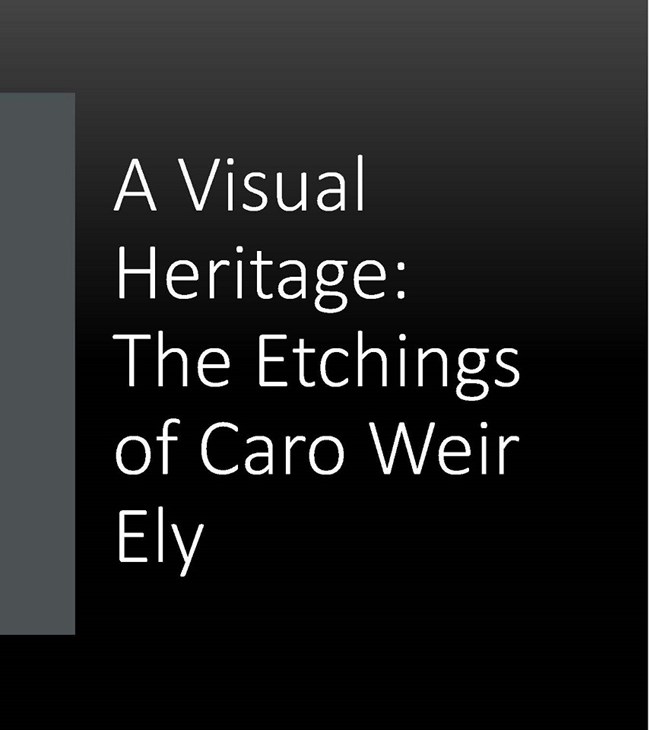 Caroline Alden Weir Ely (1884-1973), the eldest daughter of
Julian Alden
and Anna Weir, created and exhibited etchings for most of her life. Ely was fascinated with etching since childhood, when in her father's studio she watched him pour the "thrilling green acid". In 1912, she studied with Joseph Pennell at the Art Students League in New York City. Influences from both her father and Pennell can be seen in Ely's etchings, however she developed a style of her own. A common thread in all Ely's etchings is her attention to detail. Her skilled figuring of a stream's rough water or a leaf's velvety texture draws viewers into her etchings.
Ely, a well-rounded artist in pastels and etchings, was best known for her hand-tooled book bindings and exhibited her artwork for almost 50 years. After her death, the Caroline Weir Ely Memorial Exhibition, consisting of 18 of her works, was part of the 1974 Autumn Exhibition at the Lyme Art Association in Old Lyme, CT.
Ely's art is in the permanent collections of the
Connecticut Historical Society
,
Florence Griswold Museum
,
Fine Arts Museum of San Francisco
and
Brigham Young University Museum of Art.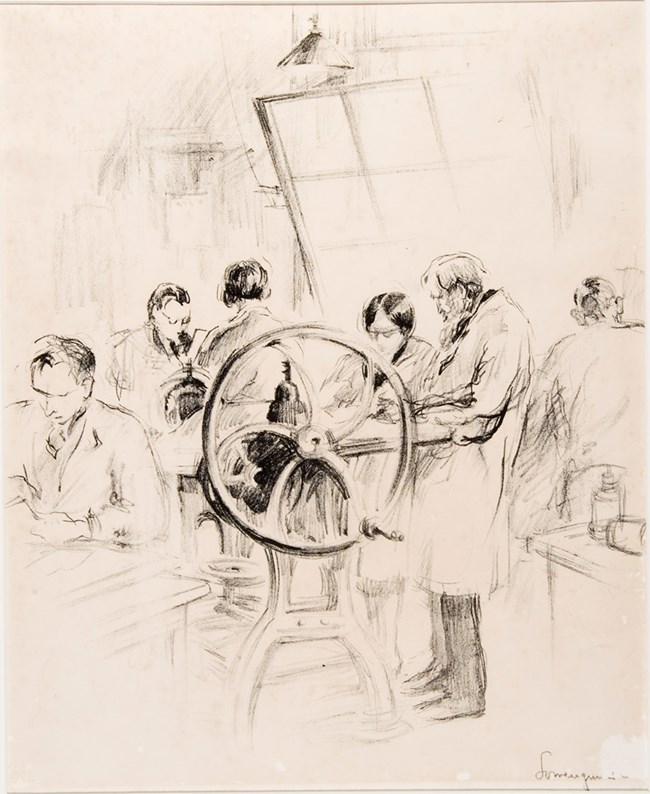 Joseph Pennell in His Studio
Margaret Lowengrund
Lithograph
Ca. 1924
Ely studied at The Art Students League of New York where her teacher,
Joseph Pennell
was a harsh critic and demanding teacher. He expected his students to gain a strong foundation in printing and he encouraged students whom he felt had promise. Recognizing Ely's talent, Pennell encouraged her to print impressions of her father's etching plates. Through his connections with gallery owner Fredrick Keppel, Pennell was directly responsible for Ely's 1927 exhibition, "The Etchings of J. Alden Weir."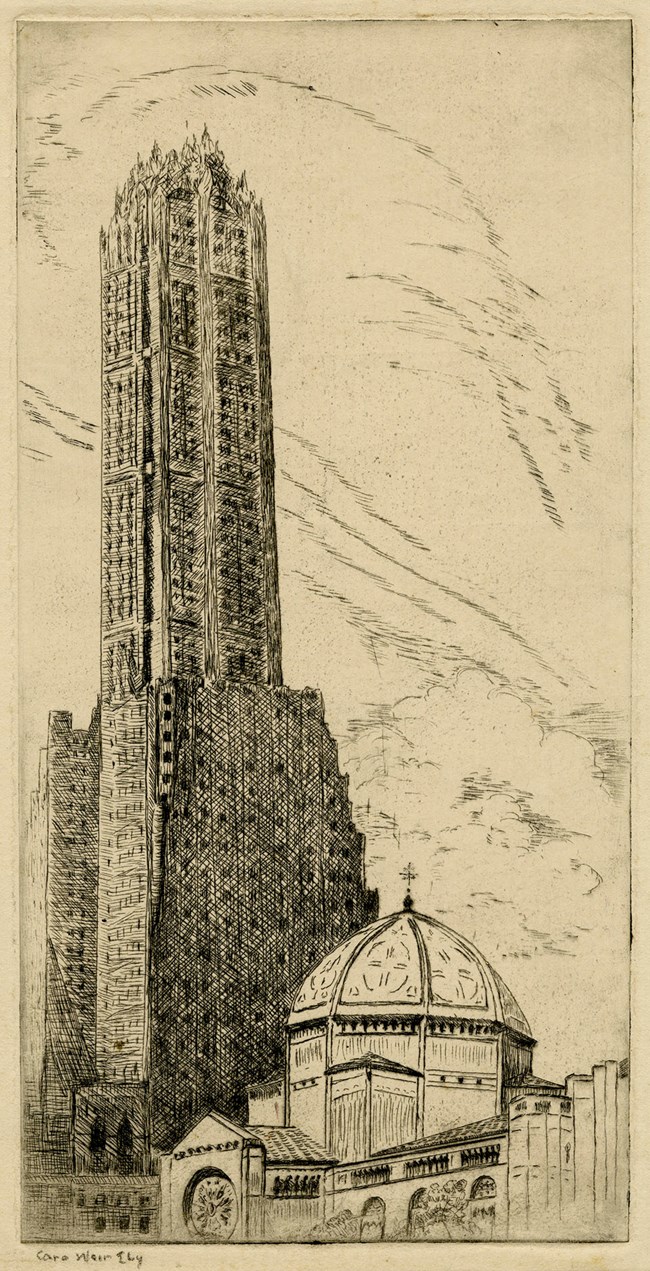 St. Bartholomew's Church
Caro Weir Ely
n.d.
Ely split her time between her family's homes in Old Lyme, CT, and New York City. Many of her landscapes are pastoral scenes, but she also found artistic inspiration in the urban landscape of New York. The dome of St. Bartholomew's Church, located on the corner of Park Avenue & East 51st Street, is dwarfed by the looming General Electric Building. This city scene, with its strong vertical lines, is reminiscent of the skyscrapers in Joseph Pennell's series,
Lithographs of New York in 1904
.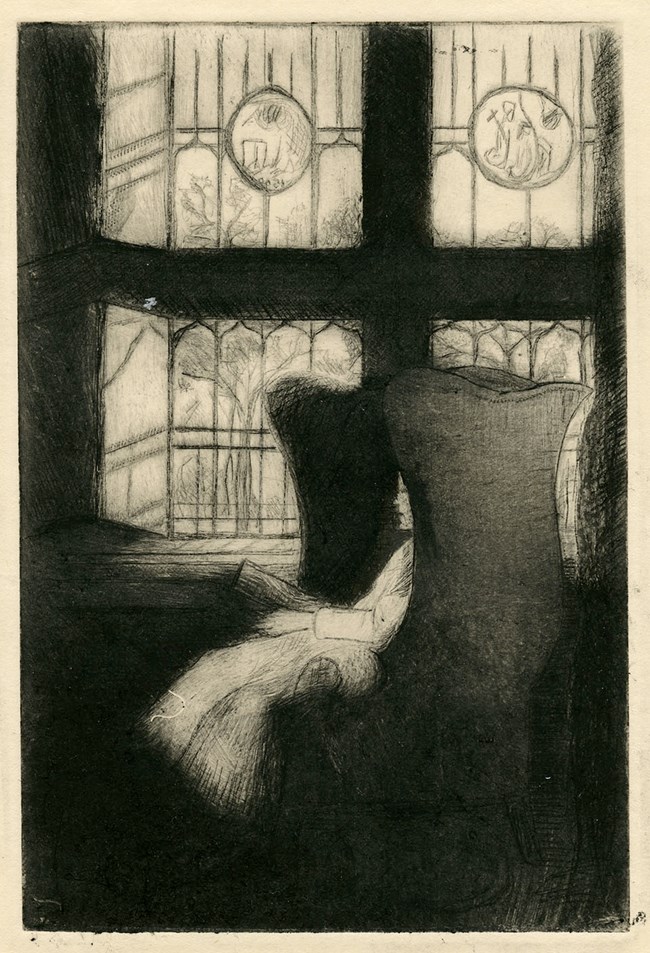 Living Room Window at Branchville
Caro Weir Ely
n.d.
The stained-glass windows dominate this peaceful, domestic scene in the Weir House. An earlier state or version of this print shows a poorly figured dog on the floor next to the chair. Here, Ely's alterations of the etching illustrate her growth as an artist; removing the dog and darkening the lower quarter create a more dramatic and refined etching.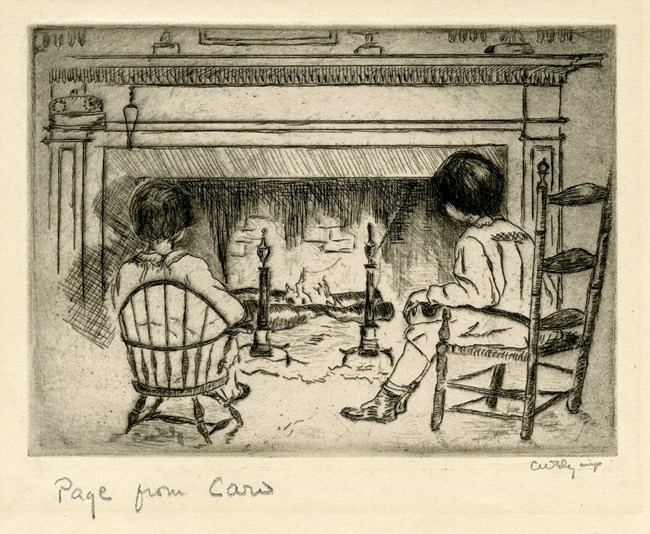 Ann & Lyn in Front of Fire at Windham
Caro Weir Ely
Ca. 1925-1927
In writing about her father's portraits, Ely shares, "Most of the portraits were etched during 1890 and 1891…these portraits were almost entirely confined to his family and intimate friends, and for that reason have a very personal quality".
Ely's portrait of her two children sitting in front of a roaring fireplace was a gift to her husband. Even though we are viewing the children from behind, this scene shares the same personal quality as her father's portraits.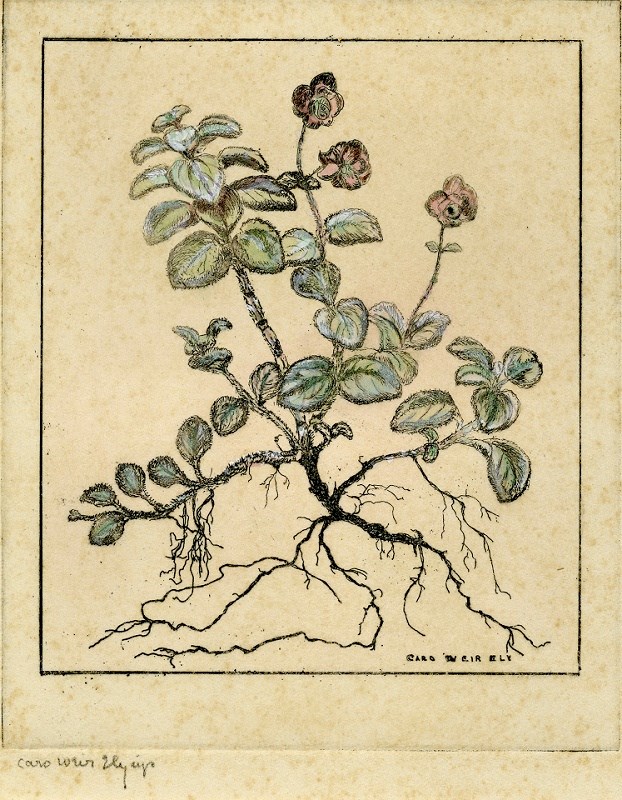 Dittany
Caro Weir Ely
Ca. 1935
Ely, an avid gardener, had over 100 different types of herbs in her garden in Old Lyme. Ely's hand-colored etching of the plant dittany,
Origanum dictamnus
, is a delightful combination of two of her interests. This etching was published in the 1935 book, "Herbs for Use and for Delight: An Anthology from the Herbalist, a Publication of the Herb Society of America."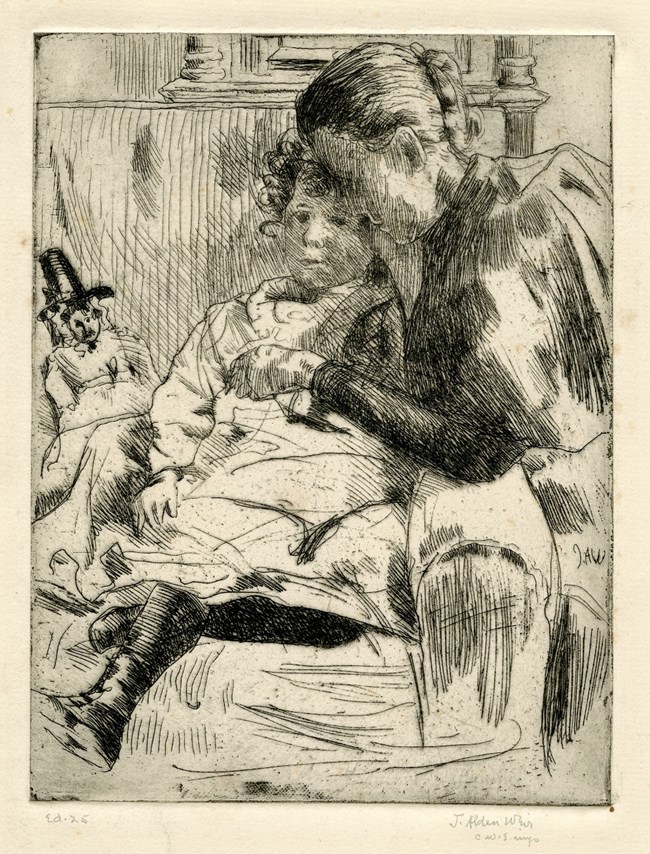 The Welsh Doll
J. Alden Weir, etcher
Caro Weir Ely, printer
n.d.
With encouragement from Joseph Pennell, Ely printed limited editions from 50 of her father's etchings plates. These etchings made by Ely are called posthumous impressions, a practice not uncommon among artists. To differentiate her impressions from the ones made by her father, Ely signed the works, "CWE imp," meaning printed by Caro Weir Ely.
The printing process involves a fair amount of aesthetic decisions: the manner in which the plate is inked, the type of ink, and the amount of ink used will all affect how the finished print looks. The decisions made by the printer are neither right nor wrong, but merely a part of the etching process.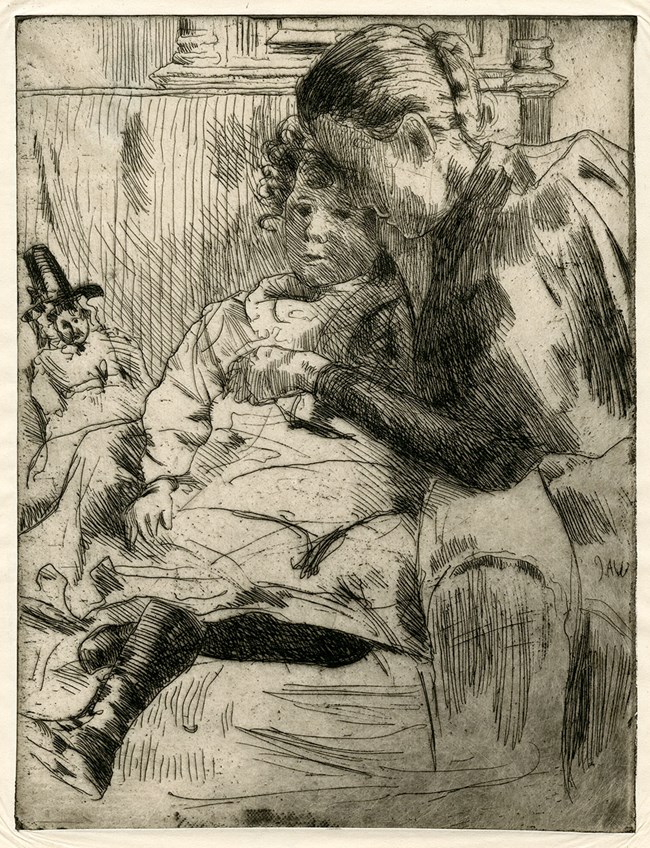 The Welsh Doll
J. Alden Weir
Ca. 1894
This copy of
The Welsh Doll
, etched by Weir around 1894, exhibits a difference from the previous impression of Ely's. Weir left more ink on the etching plate before printing, especially on lower right corner, however the Welsh doll in the left corner remains the same. Does the difference in the color of the two prints change how you view them?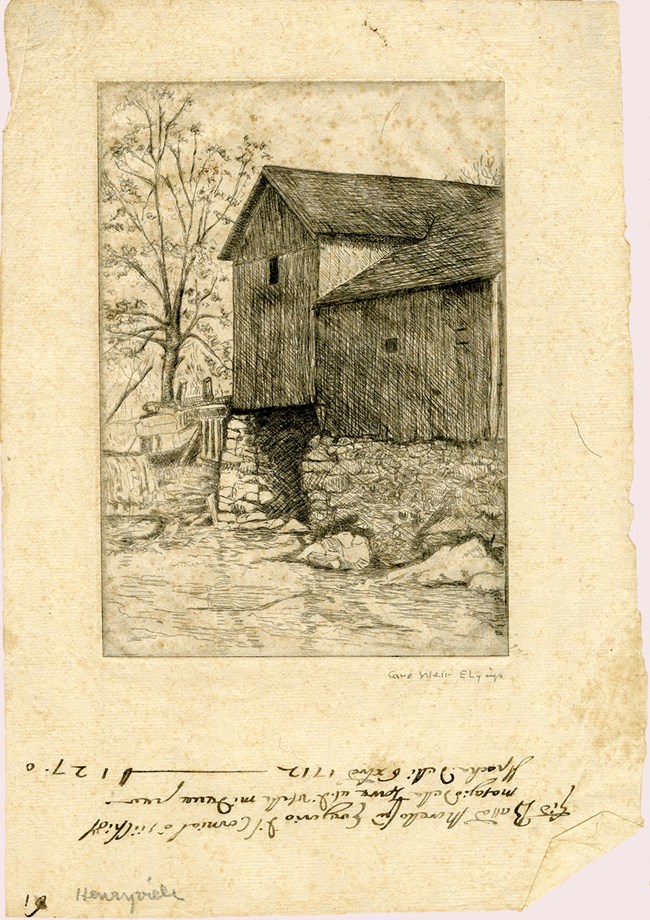 Henryville
Caro Weir Ely
n.d.
A copper etching plate can be printed a few hundred times before it shows any wear. This allows the artist to experiment with different papers and inks to produce variations of their etchings.
In this copy of
Henryville
, a favorite fishing spot in the Poconos, Ely printed on a piece of antique paper torn from an old account book judging by the writing on the bottom of the sheet. Weir Farm NHS has two additional copies of this etching, each printed on different paper, resulting in differing prints. Henryville is an example of Ely's willingness to experiment with different techniques and materials to achieve the look she wanted.
Last updated: July 22, 2020