Art in the Park Contest 2021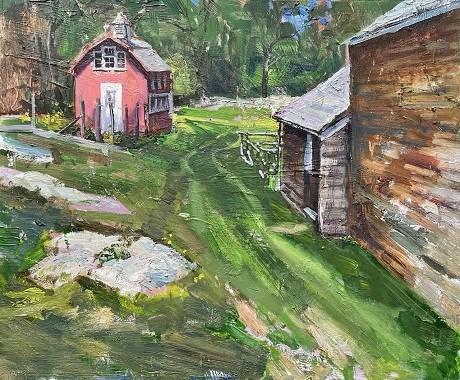 Weir Farm NHP would like to thank and congratulate all of the artists who entered this year's Virtual Art in the Park Contest and Exhibit! Artists from all over submitted an image of a piece of artwork inspired by or made at Weir Farm. Winners of each category can be seen below.
A Special Thanks to Contest Judges and Partners
A warm thank you to the three contest judges, Weir Farm art instructors Bobbi Eike Mullen, Dmitri Wright, and Pat Hegnauer, for their expertise and generosity in determining this year's winners. Also, a huge thank you to park partners G&B Cultural Center, Friends of Weir Farm, and Weir Farm Art Alliance for your support of local artists and Weir Farm's Art in the Park programming.
Virtual Art Exhibit
All artwork entered in the contest is now featured on the park's website as part of an online exhibit. With 126 submissions, the 2021 Virtual Art in the Park Exhibit focuses on showcasing the artistic inspiration and creativity that Weir Farm NHP inspires! To view the virtual art exhibit, click on the images below. The art exhibit is split into six different categories.
Visitors' Choice Award
The Visitor's Choice Award is getting a virtual spin this year with two rounds of online voting! Round one begins October 1st and will be open through end of day on Wednesday, October 20, 2021. View the exhibit gallery and look through all the works of art. Then go to this Microsoft Form and pick your favorite! Only one vote per person/email address will be accepted. The top six works from Round One will advance to our social media voting that will take place on the park's Facebook during the week of October 24, 2021, where the first, second, and third place winners will be decided. Vote for your favorite today!
2021 Virtual Art in the Park Exhibit
October 1, 2021 - April 30, 2021
Full List of Winners and Honorable Mentions
Advanced/Professional Artist Awards
1st, Weir Masterpiece Award: Justin Wiest, "Spring Morning"
2nd: Leslie Carone, "Young Studio, Weir Farm"
3rd: Maya Rodriguez, "Woodshed in Winter"

Honorable Mentions:
Alice Hayes, "Shadow by the Barn"
Day R. Shields, "Painting in the Meadow -Dmitri's Class"
Sharman Wheatley, "Sunken Garden, Weir Farm"
Adult Artist Awards
1st: Christina A. Tugeau, "Memory Shed"
2nd: Mark Taylor, "Weir Pond 2021"
3rd: Cathleen Nardo, "The Buttercup Trail"

Honorable Mentions:
Cynthia Dunn, "Moody Morning"
Michael Franco, "Ice House and Weir Barn"
Michael Jaykus, "The Shed at Weir Farm"
Teen Artist Awards
1st: Gisella Castagna, "Burlingham Bunnies at Dusk"
2nd: Josh Arouni, "Breathe In"
3rd: Brenden Shean, "Foliage on the Lake"

Honorable Mentions:
Caroline Richey Elliott, "Flower in the field"
Chloe Kiernan, "Peace and Serenity"
Alex Lopes, "Burlingam House at Weir Farm"
Junior Artist Awards
1st: Adelaida Rogova, "Dragon on the Farm"
2nd: Skanda. R, "The good times spent in the park"
3rd: Will, "The Old Oak"

Honorable Mentions:
Reagan Bohnemann, "Cora's House and Potting Shed"
Lilly P, "The Weir Bench"
Cecilia Tremante, "Tree and Stone Wall"
Photography Awards
1st: Dylan Miller, "Sphagnum Grove"
2nd: Susan D. Ferguson, "Weir Farm in Winter"
3rd: Diane Daskam, "A view in May from the hidden garden"

Honorable Mentions:
Zaac Chaves, "The Green Elf Cup: Chlorociboria aeruginascens"
Maryann Lennon, "Celebration"
Jonathon K. Rosen, "Weir House"
NPS Staff, Partner, and Volunteer Awards
1st: Shelby Street (Take Part in Art Volunteer), "Dusk"
2nd: Charlotte Simons (Take Part in Art Volunteer), "Weir Farm Glow"
3rd: Tom Barberi (Park Staff), "Beauty Amongst the Enemy"

Honorable Mentions:
Chris Burke (Park Staff), "Sunrise on the Porch"
Leslie Cullen (Studio Docent), "Through the forest"
Barbara Kaplan (Garden Crew), "Feeding Time"
Last updated: October 20, 2021