Art in the Park Contest 2020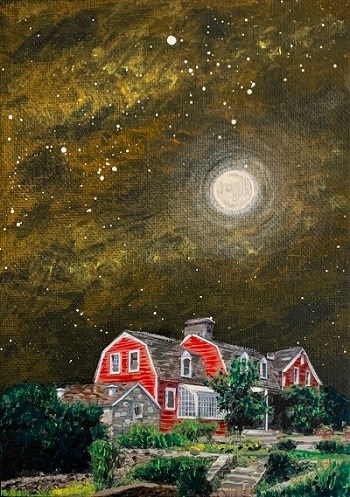 Weir Farm NHP would like to thank and congratulate all of the artists who entered this year's Virtual Art in the Park Contest and Exhibit! Artists from all over submitted an image of a piece of artwork inspired by or made at Weir Farm. Winners of each category can be seen below.
A Special Thanks to Contest Judges and Partners
A warm thank you to the three contest judges, Weir Farm art instructors Bobbi Eike Mullen and Pat Hegnauer, along with superstar volunteer Jane Jawlik, for their expertise and generosity in determining this year's winners. It was no easy task with all the outstanding work to choose from! Also, a huge thank you to park partners G&B Cultural Center, Friends of Weir Farm, and Weir Farm Art Alliance for your support of local artists and Weir Farm's Art in the Park programming.
Virtual Art Exhibit
All artwork entered in the contest is now featured on the park's website as part of an online exhibit. With 87 submissions, the 2020 Virtual Art in the Park Exhibit focuses on showcasing the artistic inspiration and creativity that Weir Farm NHP inspires! To view the virtual art exhibit, click on the images below. The art exhibit is split into four different categories.
Visitors' Choice Award
The Visitors' Choice Award consisted of two rounds of online voting, with the top 6 works of art from two weeks of open voting advancing to a bracket-style competition on the park's Facebook page last week. In total, 161 visitor votes were placed in this nail-biting creative competition for the highly coveted Visitors' Choice Award. Congratulations to Mary Lou Cummings and her watercolor painting, "Weir Barn and Hollyhocks, Branchville, Conn." for winning the Visitors' Choice Award!
2020 Virtual Art in the Park Exhibit
October 31, 2020 - April 30, 2021
Last updated: December 28, 2021