Nature
In Weir's day, goats, horses, oxen, and geese were a few of the domestic animals that inhabited the farm. Though the original barns remain, visitors are now treated to seeing a diversity of wildlife, rather than farm animals here. Wildlife habitats on the property include open meadows, hardwood forests, vernal wetland areas, streams, a pond, rocky ridges, and gardens.
What to Watch for:
Bluebirds and tree swallows nesting in our nest boxes and chattering from nearby perches
Wild turkeys roaming in the fields and woodlands
Warblers flitting in the woods—the best time for viewing is early May
Frogs and turtles in the pond and nearby wetland
Butterflies in the gardens and meadows; 12 different species have been spotted at the park
Dragonflies zooming over the fields and pond
Bats at dusk; bats that have been inventoried on site include: big brown bat, little brown myotis, northern myotis, eastern red bat, and hoary bat
Deer in the meadows or woods
Spring ephemeral wildflowers are best seen in late April and early May
Mountain laurel blooms in June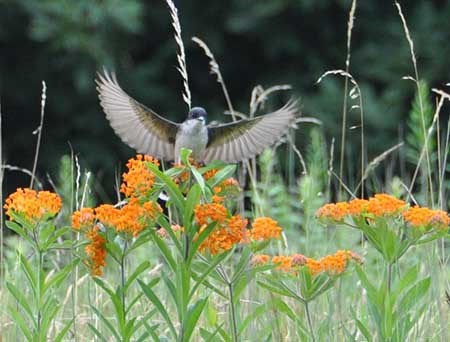 Birders Welcome
Weir Farm is an excellent place for birdwatching. At least 65 species of birds have been identified, 38 of which were confirmed or suspected to be breeding in the park. Weir Farm NHS has been set up in eBird as a birding "hotspot." You can help the park bolster bird data by adding your bird observations to eBird when you visit. You can also see a list of birds seen at Weir Farm on eBird.

Last updated: December 20, 2021