For Kids: Be a Junior Ranger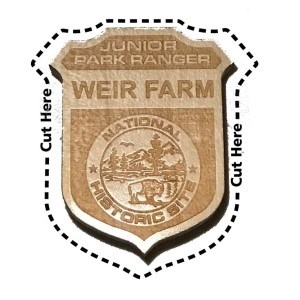 Virtual Junior Ranger Program
Become a Weir Farm NHS Junior Ranger from home! Explore the park website and find the 6 items below. Once you complete the website scavenger hunt, print this page or download the image of the Junior Ranger Badge, cut it out along the dotted line, and take the Junior Ranger Pledge at home: "As a Junior Park Ranger, I promise to learn about, explore, and protect national parks." Once complete, you are officially a Weir Farm NHS Junior Ranger!
Weir Farm Website Scavenger Hunt
Explore the park website and find the following objects to complete our Virtual Junior Ranger program. Have fun learning about Weir Farm NHS along the way!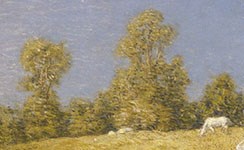 1) Can you find which J. Alden Weir painting this came from? *Hint: Look in the Historic Artwork Galleries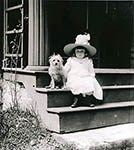 2) Find the names of this little girl and her dog in the Historic Photo Gallery.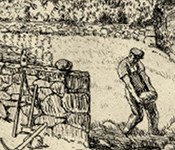 3) Take a look through the Historic Artwork Galleries and find which piece of art this image is taken from. *Hint: It was created by Mahonri Young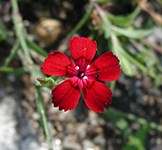 4) Name this flower! *Hint: You can find lots of flowers in the Modern Landscape Photographs Gallery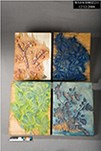 5) Visit the Collections Gallery to discover who carved these woodblocks.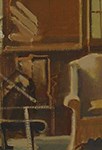 6) Can you figure out which Sperry Andrews painting this image comes from? *Hint: Look in the Historic Artwork Galleries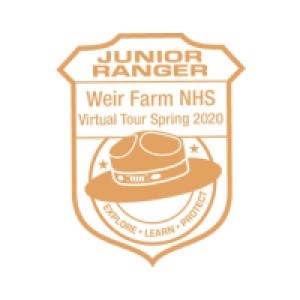 Congratulations, you are now a Weir Farm Junior Ranger!
Don't forget to take the Junior Ranger Pledge and get your Junior Ranger Badge from above. You can also print the Junior Ranger stamp to the right and add it to your passport book to show you took the Spring 2020 Virtual Junior Ranger Tour!
In-Park Junior Ranger Activities
Weir Farm National Historic Site is a fun place for kids to explore and learn! Complete one of the following activities during your next visit to the park to earn a Junior Ranger badge; complete more than one to earn a special Junior Ranger patch.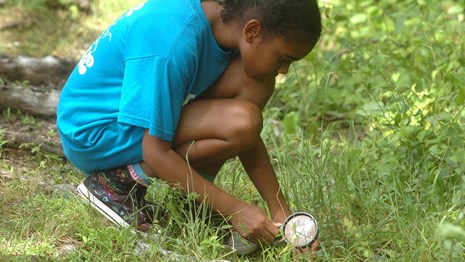 Explore Your Senses
Explore the colors, textures and sounds that make up Weir Farm with our scavenger hunt activity. Available in season only.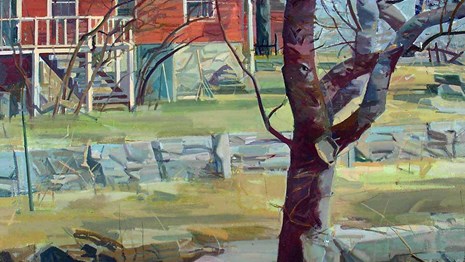 Let's Go Letterboxing
Use clues to navigate the landscape and locate five hidden containers, or letterboxes, which contain stamps. Available in season only.
Find Life in the Pond
Pick up a backpack containing art and nature-oriented activities to complete on a nature walk around Weir Pond. Available in season only.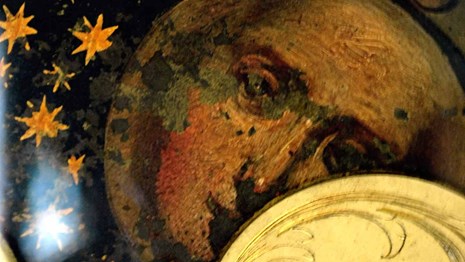 "I Spy"
Take a guided tour of the Weir House or visit the Weir and Young Studios. Keep your eyes wide open to find objects listed in the I Spy bookl
More for Kids
Kids in Parks
Find fun activities on the National Park Service Kids in Parks page, including online Junior Ranger activities, games, and more!
Scout Ranger
Girl Scout and Boy Scout groups can earn special badges and certificates for completing our Junior Ranger Activities. Groups should contact (203) 834-1896 x11 for more information and to make arrangements for a group visit. All scout groups must schedule thier visit in advance.
Web Ranger
Play more than 50 games and learn about your National Parks with the online Junior Ranger program, available from the National Park Service.


Last updated: May 1, 2020