Places
Weir Farm National Historic Site is a place where the home and landscapes so essential to the work of Julian Alden Weir are preserved for all to enjoy. This classic New England property includes lovely open meadows and dappled woodlands crisscrossed by moss covered stone walls. Winding trails lead to a pond Weir built on 10 acres of land he purchased in 1896 with a $2500 prize for his painting The Old Rock (also known as The Truants) at the annual exhibition of the Boston Art Club.
Julian Alden Weir was among the first American artists to convey an intimacy with and appreciation of nature as it is found in one's own backyard.
Make the most of your visit!
Here are a few of the places you'll want to experience:

Weir House (c. 1799-1781)
Weir's house, with its distinctive red clapboard siding, leaded glass windows, and original furnishings is open to the public for guided tours.

Weir Studio (1885-1886)
Features J. Alden Weir's blue and gray painted ceiling with gold stars, potbelly stove, easels, brushes, palettes and other studio furnishings.

Young Studio (1932)
Several armatures, original plaster casts, small statues, and many of the tools Young used to create his sculptures, paintings, and etchings are on display in the studio today.

Burlingham House (c. 1775-1782)
The former home of Weir's youngest daughter Cora Weir Burlingham serves as the park's visitor center, with exhibits on the lives and legacies of those who shaped Weir Farm since 1882.

Gardens
Don't miss the Secret Garden (c1910), Sunken Garden and Terrace Garden (1930s-1940s). Restored by the National Park Service in partnership with the Wilton and Ridgefield Garden Clubs, these gardens showcase a beautiful variety of flowers and native plants that appear today as they did when planted.

Pond and Woodlands
Take the trail to the 3.7 acre pond built by Weir in 1896. Or enjoy a longer hike in the Weir Preserve. Mature oaks, sugar maple, and ash predominate. Mountain laurel blooms in the understory in June.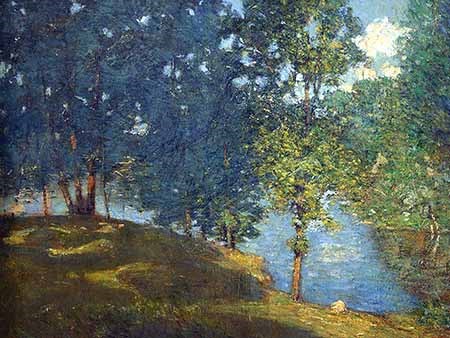 Pick up self-guided walking tours and maps at the visitor center. Find out about more about guided tours and other things to do.
Last updated: November 30, 2020