Teacher-Ranger-Teachers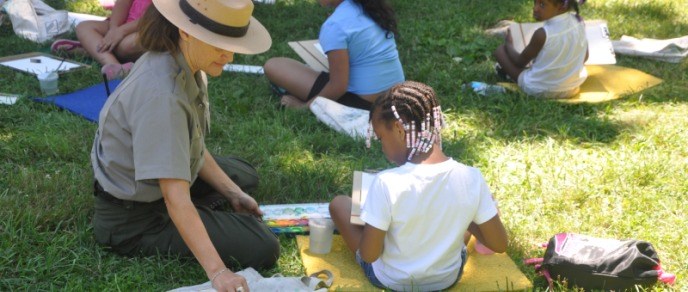 The nationwide Teacher-Ranger-Teacher program allows educators like you to work as seasonal Park Rangers during the summer. During the school year, Teacher-Ranger-Teachers (TRTs) bring parks into their classrooms by developing lesson plans that draw on their summer experiences in the park. In April, during National Park Week, TRTs wear their National Park Service uniforms to school, discuss their park ranger adventures, and give assignments related to our nation's national parks.

Weir Farm National Historic Site's TRT aids the interpretation/education division throughout the summer. The TRT typically assists with large group visits, updates interpretive materials and develops new park education resources. The park's 2012-2013 TRT was Pam Clasby, a 3rd grade teacher from Ridgefield Academy. In between painting with groups of local Girl Scouts, TRT Pam Clasby spent the summer developing a lesson plan titled "Weir Am I?" to help students learn map-making and map-reading skills.
The park does not provide housing. For this reason, the park only accepts TRTs who live and work in the local area. The TRT position at Weir Farm National Historic is currently filled. To find a park with vacancies, visit the national link above. For more information about the TRT program at Weir Farm National Historic Site, please contact the park's Education Program Coordinator at (203) 834-1896 ext. 11.
Last updated: February 26, 2015