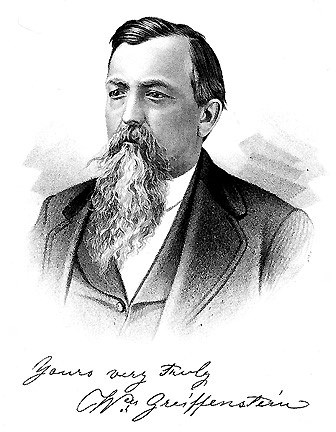 Orsemus Hills Bentley's book History of Wichita and Sedgwick County, Kansas: Past and Present, states: "William Greiffenstein was a warm-hearted, generous man, and in Sedgwick County, his friends are legion. Time will do his memory justice, and posterity will perpetuate his many virtues."

Wilhelm Greiffenstein was born in Frank-on-the-Main, Prussia (Germany) on July 28, 1829. He first settled in St. Louis and worked as a clerk in his uncle store. He later settled in Eurdora, Kansas, where he established a trading post with Joseph Boinett. In 1854, William "Dutch Bill" Greiffenstein made a profitable expedition into Indian Territory where he traded for furs and skins with the Comanche and the Cheyennes. He continue until 1858. In 1859 he establish a trading post on Walnut Creek, Kansas, and traded with Cheyennes, Arapahos, Comanches, Kiowas and Plain Apaches for several years.
Greiffenstein married twice, his first wife was Cheyenne Jennie who died in 1868; his second wife was Catherine Barnett, daughter of Pottawatomie Chief Abram Barnett; and he was widely respected for his fair dealings with the Cheyenne, Arapaho, Kiowa, Comanche and Apache people.
In 1867, he established a trading post near Fort Cobb and the Anadarko Indian Agency. Once established he was able with the help of his wife, Cheyenne Jennie, recovered from various Indian tribes several white children that were held captive, and restoring them their parents.
November 7, 1868, Grieffenstein's employee, Cheyenne Jack, notice a white woman at Yellow Bear's Arapaho camp while trading with the Indians. He was able to give this woman a pencil and paper to write a note that he carried back to Fort Cobb. It was given to Dutch Bill on November 25. When the Greiffenstein read the note it said:
"Kind Friend,
Whoever you may be, I thank you for your kindness to me and my child....If only you could buy us from the Indians with ponies or anything and let me come and stay with you until I could get word to my friends, they would pay you and I would work and do all that I could for you. If it is not too far from the camp and you are not afraid to come, I pray that you will try....If you can do nothing, write to W.T. Harrington, my father, in Ottawa, Franklin County, Kansas. Tell him we are with the Cheyenne and they say when white men make peace, we can go home. Tell him to write to the governor of Kansas about it and for them to make peace. ..My name is Mrs. Clara Blinn, my little boy Willie Blinn, he is two years old. Do all you can for me."

He immediately contacted Colonel William Hazen, the commander at Fort Cobb, and the Indian Agent. Colonel Hazen gave authorization for Dutch Bill to negotiate the release of the Blinns. But it was too late, Lieutenant Colonel George A. Custer's Seventh Cavalry attacked Chief Black Kettle's village on November 27, 1868. Mrs. Blinn and her son were killed in a Kiowa camp down river at the sound of Custer's attack began.
In 1869, General Philip Sheridan accused him of selling guns to the Indians, though technically he was authorized by the Bureau of Indian Affairs to sell guns to them, and was expelled from the Indian Territory. Greiffenstein denied the charges, and later was compensated by the government for all his loss goods. In 1869, he married Catherine Barnett.
In 1870, he assisted in the founding of the city of Wichita, Kansas. He opened a store, and was mayor of the town in 1878, and from 1880 to 1884. He also founded the town of Burnett, Indian Territory in 1888. He died September 26, 1899 in Burnett.


Bibliography

Jerome A. Greene. Washita: The U.S. Army and the Southern Cheyenne, 1867-1869.
Norman, OK: University of Oklahoma Press, 2004. Pg. 173
Richard G. Hardorff. Washita Memories.
Norman, OK: University of Oklahoma Press, 2006. Pg. 41, 42n1, 210n9, 276n2, 289 & n1, and 307n9.
Thom Hatch. Black Kettle, the Cheyenne Chief Who Sought Peace but Found War.
Hoboken, NJ: John Wiley and Sons, Inc., 2004. Pg. 218, 239, 242, and 246.
Stan Hoig. The Battle of the Washita.
Lincoln, NE: University of Nebraska Press, 1979. Pg.23, 89, 92, and 97.
George E. Hyde. Life of George Bent.
Norman, OK: University of Oklahoma Press, 2006. Pg. 278ff