Colonel William B. Hazen (1830-1887)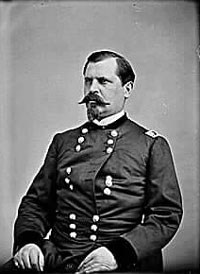 William Babcock Hazen was born into a farming family in West Hartford, Vermont on September 27, 1830. In 1833, the family moved to Hiram, Ohio, where Hazen became friends with the future president James A. Garfield.
He entered the US Military Academy at West Point in 1851, and became known as an independent-minded perfectionist with great ambition, although upon his graduation four years later, he ranked twenty-eight in a class of thirty-four due to his excessive demerits (150 in his senior year) and poor grades in his military courses.
His initial assignments took him to various frontier posts in the Oregon Territory until 1858, when he transferred to Texas. In 1859, Hazen was severely wounded during a skirmish with the Comanches when struck by a bullet in his left hand, passed through the right side of his chest, and lodged in his rib cage. The bullet was never removed and rendered him permanently - albeit slightly - disabled.
In early 1861, Hazen was transferred to West Point as an assistant instructor of infantry tactics. It was here that Hazen and George A. Custer first crossed paths. When cadet Custer was arrested for condoning a fight between two other cadets, Hazen, who was Custer's commander, acted as a character reference at the court martial. Hazen attested to Custer's good conduct, which may have helped save Custer's military career when he received only a reprimand rather than a dismissal. Eventually, Hazen would hold an intense dislike for both Sheridan and Custer as a result of false imputations and "mischievous error" propagated by them immediately after Washita.
With the assistance of his old boyhood friend, James A. Garfield, Hazen was appointed colonel of the 41st Ohio Volunteers at the outbreak of the Civil War. He participated in such engagements as Battle of Shiloh, Battle of Stones River, Missionary Ridge, and the siege of Savannah, Georgia in December of 1864.
Hazen mustered out in August 1865 and reverted to the rank of colonel with the 38th US Infantry. In the fall of 1868, Hazen was in command of Fort Cobb, Indian Territory, and named agent of two southern plains districts, responsible for arranging the settlement of 6,000 members of various Plains Indian tribes at his post. He also had the task of determining which tribes were peaceful and which were not.
On November 20-22, prior to the Battle of the Washita, Chief Black Kettle and other chiefs met with Hazen, who informed them they have to make peace with General Sheridan to ensure their safety. Hazen told them that the General was in the field at that time.
Other duties for Hazen included: Southern Superintendent of Indian Affairs (where he formed the intertribal government for the Five Civilized Tribes in the Indian Territory), military observer in Europe, colonel of the 6th US Infantry in remote Fort Buford, Dakota Territory, and brigadier general and appointed Chief Signal Officer of the US Army.
William B. Hazen died suddenly on January 16, 1887, while on active duty in Washington, DC, of what was reported as kidney poisoning - with complications perhaps caused by movement within his body of the bullet he had carried since 1859. Hazen is buried in Arlington National Cemetery.


Bibliography

Greene, Jerome A. Washita: The U.S. Army and the Southern Cheyennes, 1867-1869.
Norman: University of Oklahoma Press, 2004. (pgs. 57, 69, 106-108, 163, 164, 165-166, 176, 224, 254-256)

Hardorff, Richard. Washita Memories: Eyewitness Views of Custer's Attack on Black Kettle's Village.
Norman: University of Oklahoma Press, 2008. (pgs. 41, 44, 55, 72, 74-75, 269, 276, 279, 280, 288-289, 306, 307, 324)

Last updated: August 7, 2020