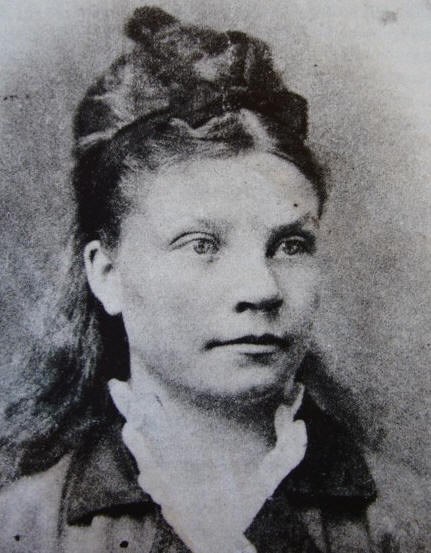 Clara Isabel Harrington was born on October 21, 1847, in Elmore, Ohio, the daughter of William T. Harrington and Harriet Bosley. She married Richard F. Blinn on August 12, 1865, and the following year gave birth to their son, Willie.
In the spring of 1868, the extended Harrington family migrated west and settled in Ottawa, Franklin County, Kansas. From there the Richard Blinn family traveled onto the Colorado Territory, where Richard formed a partnership with his brother-in-law, John F. Buttles of Fort Lyon, Colorado, to furnish supplies to government outposts.
On October 5, 1868, the Blinns departed from Bogg's Ranch in Colorado in a train of eight wagons and headed east along the Arkansas River to Fort Dodge, Kansas. On the afternoon of October 9, Arapahos jumped the train near the mouth of Sand Creek and captured the supply wagon with Sara and Willie. The remaining wagons were set on fire with flamming arrows. Richard Blinn and the wagon crew of ten men survived the ordeal, though trapped for five days before a volunteer started for Fort Lyon to seek relief for the besiged.
On November 7 Cheyenne Jack, an employee of William Griffinstein's trading post at Fort Cobb, located Clara and her son in Yellow Bear's Arapaho camp. After recieving Clara's emphatic message for help the note was passed on to Maj. William B. Hazen, special military agent, who had just arrived at Fort Cobb. Hazen authorized Griffinstein to negotiate the release of the Blinn captives.
Before they could be rescued, Clara and her infant son, Willie, were killed by the Kiowa after the fight on the Washita.


Bibliography

Greene, Jerome A. Washita: The U.S. Army and the Southern Cheyennes, 1867-1869.
Norman: University of Oklahoma Press, 2004. (pgs 70, 71, 108, 173-74, 176, 185, 254-56, 260)

Hardoff, Richard. Washita memories: eyewitness views of Custer's attack on Black Kettle's village.
Norman: University of Oklahoma Press, 2008. (pgs 38, 41-43, 71, 76, 160, 213-14, 227, 235-36, 262, 277-78)