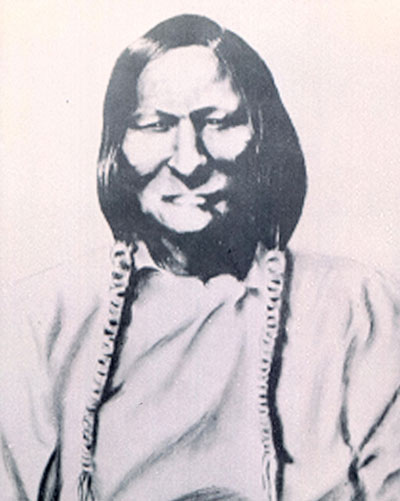 Black Kettle has been characterized as a "good man with deep wisdom, who devoted his life to trying to lead his people to safety, working against forces too mighty to fight."
Black Kettle, born in the Black Hills of South Dakota about 1803, proved himself in his youth to be a fierce warrior against his tribe's enemies. By the early 1860s this proven warrior had become an advocate of peace between his people and the white settlers.
He was known to have signed such treaties as the Treaty at Fort Wise (1861), and the Medicine Lodge Treaty (1867). Despite his efforts, he barely escaped with his life at Sand Creek, Colorado Territory, when the Colorado Volunteer Cavalry, State Militia, (3rd Colorado Cavalry) led by Colonel John Chivington, launched a surprise attack on the Sand Creek camp and slaughtered at least 150 Cheyenne and Arapaho - most of them women and children.
The night before the Washita attack, Black Kettle returned to his village after a 100-mile trip to Fort Cobb, where he and Arapaho Chief Big Mouth unsuccessfully petitioned the post commander, Colonel William B. Hazen, to have his village moved closer to the fort. Still confident of their safety, he resisted the entreaties of some of his people, including his wife, Medicine Women Later (Ar-no-ho-wok), to move their camp closer to the larger Cheyenne, Arapaho, and Kiowa encampments downriver. As a result, Chief Black Kettle and his wife were shot and killed by soldiers while crossing the Washita River, attempting to escape to the villages downstream.