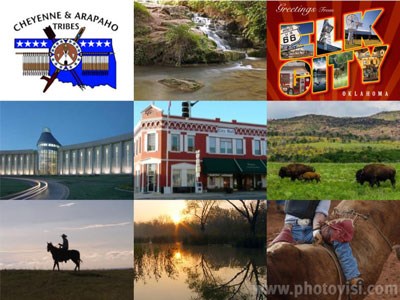 Local Partnerships

Black Kettle National Grasslands
On June 23, 1960, the Black Kettle National Grasslands was officially designated. The National Grasslands contains 31,300 acres with 30,724 acres located near Cheyenne, Oklahoma, and the remaining 576 acres located near Canadian, Texas, and comprising the Lake Marvin Recreation Area. The McClellan Creek National Grassland contains 1.449 acres near Pampa, Texas, and includes the Lake McClellan Recreation Area.
Cheyenne and Arapaho Nation of Oklahoma
The Oklahoma Historical Society has been collecting, reserving, and sharing the history of Oklahoma and Its people since 1893.
Washita National Wildlife Refuge
The 8,075-acre Washita National Wildlife Refuge was established in 1961 to provide a resting and feeding area for migrating and wintering waterfowl. The refuge's mixed grass plains of west-central Oklahoma are superimposed on the upper reaches of the Foss Reservoir. The hungry birds feed on green wheat first. When the temperature drops, they will shift to the richer milo.
Wichita Mountains National Wildlife Refuge
Established in 1901, the 59,029 acre refuge hosts a rare piece of the past - a remnant mixed grass prairie, an island where the natural grasslands escape destruction because the rock underfoot defeated the plow. The refuge provides habitat for large native grazing animals such as the American bison, Rocky Mountain elk, and white-tailed deer. Texas longhorn cattle also share the natural grasslands as a cultural and historical legacy species. More than 50 mammals, 240 birds, 64 reptiles and amphibian, 36 fish, and 806 plant species thrive on this important refuge.
Oklahoma Wildlife and Prairie Heritage Alliance
The Oklahoma Wildlife and Prairie Heritage Alliance (OWPHA) was formed to provide enhanced coordination, cooperation and communications to conserve the short and mixed grass prairie's diverse habitat and unique wildlife which is found in Western Oklahoma. It distributes information to assist landowners, informs the region's communities and business, and serves as conduit for wildlife and prairie heritage programming opportunities. The OWPHA's main goal is to bridge the gap between programs and projects. The organization covers thirty counties of Western Oklahoma.
Cheyenne Chamber of Commerce and Tourism
The mission of the Cheyenne Chamber of Commerce and Tourism is to undertake an attitude to maintain economic growth and prosperity for the community, it's professions, its businesses and its industry.
Let Oklahoma take you on an epic getaway filled with Western adventure, diverse outdoor experiences and historic wonders. Offering vibrant American Indian culture, stunning state parks, the nation's longest stretch of colorful Route 66 and a wealth of things to do, Oklahoma is ready to take the guesswork out of your vacation planning. With just a few clicks, you can begin a captivating journey that will fuel your soul.
Elk City Chamber of Commerce working together to foster an environment of growth and prosperity.
Our mission is to provide leadership that supports area business and promote economic growth while improving the quality of life through advocacy, education, and community enhancement.