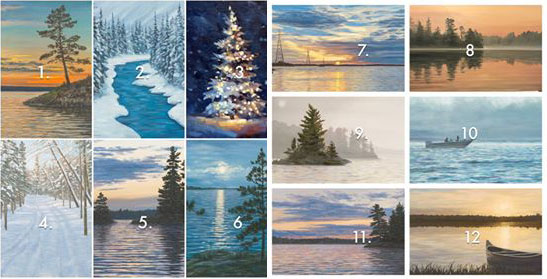 News Release Date:
January 24, 2018
Contact: Tawnya Schoewe, 218-283-6670
Contact: Miranda Challeen, 218-286-5258
International Falls, MN:Would you paint if you knew how? Here is your chance to learn that painting can be fun and for everyone. Join local artist Cherie Serrano on Sunday, January 28 from 1:00 to 4:00 PM as she walks you through the steps to get the results you want. In this three-hour class you will walk away with your very own painting of Voyageurs National Park. Registration Required. Class size limited to the first 17 participants, with a minimum class size of six. $50 fee. Register and payment at wwww.voyageurs.org. This event is part of the park's
2018 Winter at Voyageurs Event Series.
The "Winter at Voyageurs Event Series" is sponsored by Voyageurs National Park Association (VNPA).
Voyageurs National Park Association is a 501c3 nonprofit organization serving as the friends group of Voyageurs National Park. VNPA's mission is to connect people to Voyageurs National Park, enhance the visitor experience, and protect the park for present and future generations. Since the park's establishment, VNPA has served as a partner with the National Park Service in empowering park stewards, implementing special projects with financial and volunteer support, and working to preserve the visitor experience and wild nature of the park for future generations. Learn more at
voyageurs.org
.
About the National Park Service: More than 20,000 National Park Service employees care for America's 417  national parks and work with communities across the nation to help preserve local history and create close-to-home recreational opportunities. Learn more at www.nps.gov.