News Release
Voyageurs National Park Hosts Open House and Opens Comment Period on Frozen Lake Access Preliminary Proposal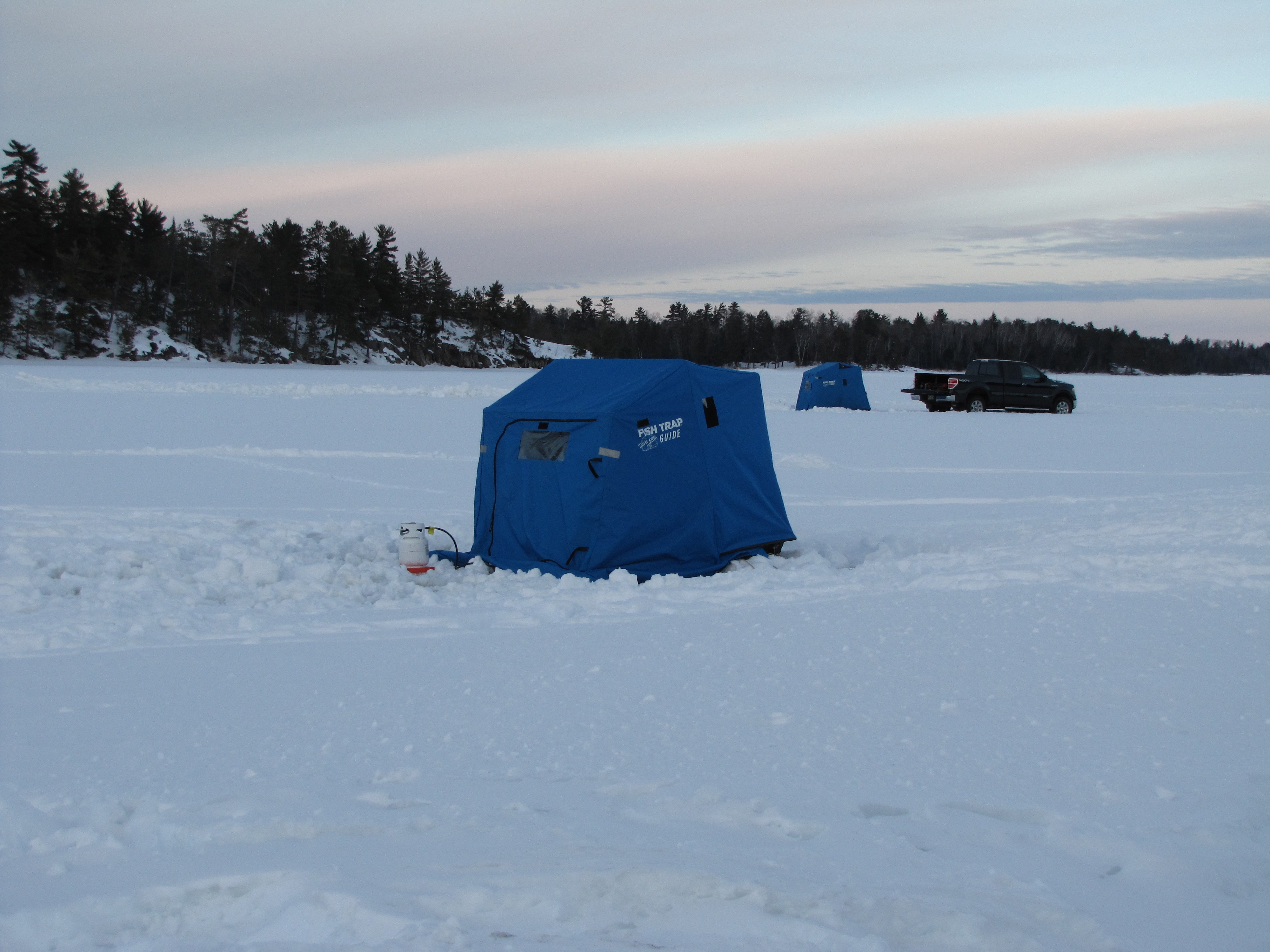 News Release Date:
March 28, 2023
Contact: Tawnya Schoewe, 218 283 6670
INTERNATIONAL FALLS, MN: The National Park Service (NPS) will be developing a Frozen Lake Surface Access and Use Plan at Voyageurs National Park and is seeking your input.
Since 1979, the NPS has plowed ice roads on Rainy Lake to provide a traditional mode of travel that was established prior to the creation of the park. Ice roads allow access to ice fishing locations and provide visitors with a unique way to experience the park in winter.
Today, ice roads are established and maintained by park staff on Kabetogama and Rainy Lakes based on weather conditions, available staff, and resources. Visitors to the park operate snowmobiles along a designated trail system and on lake surfaces.
This planning process does not relate to snowmobile use. On portions of Rainy and Kabetogama Lakes, visitors also access the frozen lake areas with off road vehicles (ORVs) which include street legal vehicles, all-terrain vehicles (ATVs), utility task vehicles (UTVs), and other types of non-snowmobile vehicles on areas away from established ice roads.
For purposes of this plan, an ORV is considered any non-snowmobile vehicle operating on the frozen lake surface. This planning effort aims to align park activities with established regulations and policies, while accommodating traditional access and activities to the extent feasible.
We invite you to participate in the planning process by submitting your ideas to help inform frozen lake surface management at the park. We would like to hear any thoughts and ideas you feel are relevant and important for this planning process. There are many ways to be involved, including attending an open house meeting and submitting electronic or written comments. The information obtained during this civic engagement period will be used to develop and refine alternatives for frozen lake surface management, identify issues, and ensure the NPS has the information needed to move forward with the planning process.
 
The park will host two in-person meetings and one virtual public meeting. All meetings will be from 5:00 to 7:00 pm CST. Park staff will give a brief presentation from 5:00 to 5:30 pm and will then be available to answer questions from the public via an open house format until 7:00 pm. The meeting schedule is:

· Tuesday, April 18, 2023: Kabetogama Community Building, 9707 Gamma Road Kabetogama, MN
· Thursday, April 20, 2023: AmericInn by Wyndham 2500 Keenan Drive International Falls, MN
· Wednesday, April 19, 2023: Virtual Meeting. To attend the virtual meeting from 5:00 to 7:00 p.m., please use this link and join the meeting 5-10 minutes early to test your connection. Meeting link: https://us06web.zoom.us/j/83447266503, Or Telephone: If you would like to call in on listen only mode and not view the presentation, please call US: +1 312-626-6799 Webinar ID: 834 4726 6503
All meeting information is also available on the project PEPC page, under "Meeting Notices" https://parkplanning.nps.gov/VOYA-frozen. The public comment period for this process will be open through May 3, 2023.
You can submit comments electronically at https://parkplanning.nps.gov/VOYA-frozen, or via US Mail to Frozen Lake Surface Access and Use Plan, Voyageurs National Park, 360 Hwy 11 East, International Falls, MN 56649.
Last updated: March 30, 2023