News Release
Voyageurs National Park to Host U.S. Mint Quarter Ceremony on June 14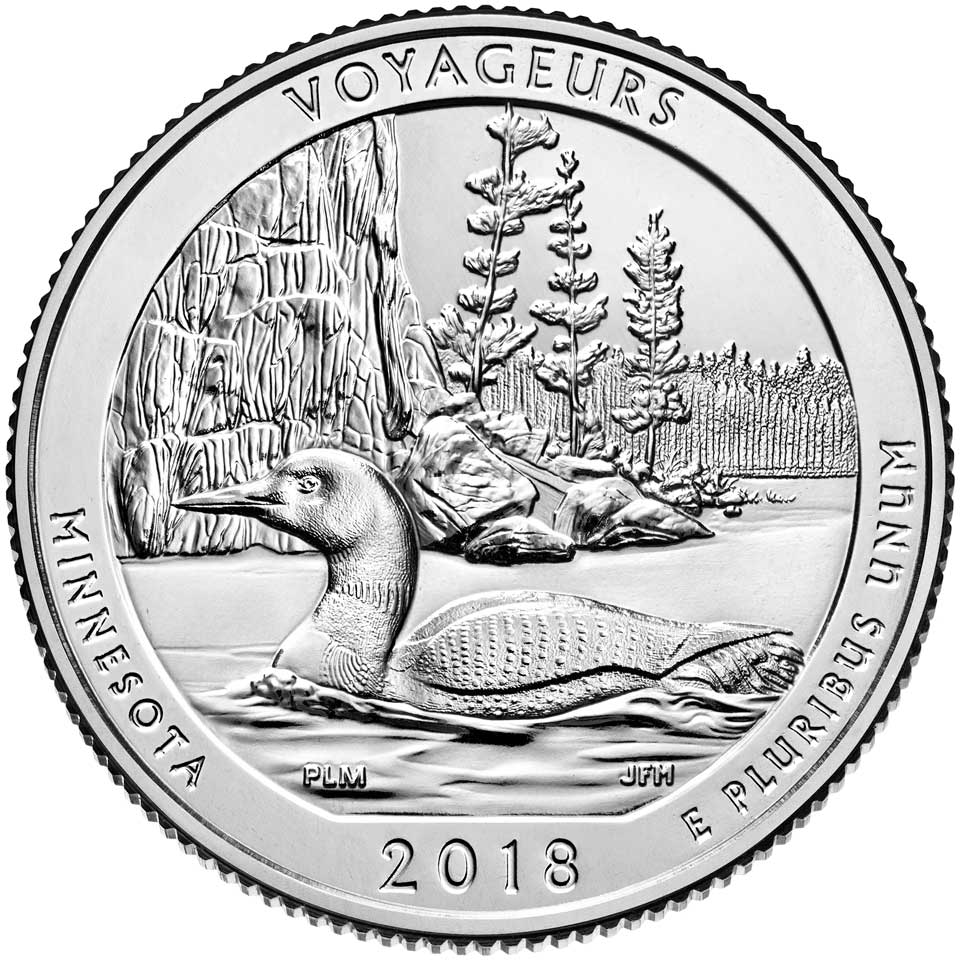 News Release Date:
May 22, 2018
Contact: Tawnya Schoewe, 218-283-6670
 INTERNATIONAL FALLS, MN – The United States Mint and the National Park Service will launch the America the Beautiful Quarters Program® coin honoring Voyageurs National Park on Thursday, June 14, 2018 at 11:00 am. The ceremony, which will take place at the Irv Anderson Amphitheater in International Falls, MN, is free and open to the public. All children 18 and under who attend will receive a free Voyageurs National Park quarter from the U.S. Mint.

The Voyageurs National Park quarter is the third of 2018 and the 43rd overall in the United States Mint America the Beautiful Quarters® Program. This design depicts a common loon with a rock cliff in the background. Inscriptions are "VOYAGEURS," "MINNESOTA," "2018," and "E PLURIBUS UNUM."

The event will include guest speakers: David J. Ryder, Director of the U.S. Mint, Bois Forte Tribal Chairwoman Cathy Chavers, and Voyageurs National Park Superintendent Bob DeGross to name a few. Additional highlights will include the National Anthem by International Falls native Gavia Yount, Boy Scouts of America; Troup #150 & Cub Scout Troop #145, Girl Scouts of America Troops #1150, 1151, 1153 & 1156, VFW Color Guard #2948, music by local artist - Darcy Sullivan.

Immediately following the event, on-site, will be a Coin Exchange conducted by TruStar Federal Credit Union of International Falls. Cash Only. One-roll ($10) minimum - 10-roll ($100) maximum.  

Along with the Coin Exchange will be activities hosted by the National Park Service that include: a voyageur encampment, Voyageurs National Park museum tours, showing of the park film, booth information, and a photo booth from Voyageurs National Park Association.

The evening prior to the event, the U.S. Mint will host a coin forum at the Kabetogama Lake Town Hall. The event will take place on Tuesday, June 13, at 5 pm. The coin forum is an opportunity for the public to learn about upcoming United States Mint coin programs and initiatives, and express their views about future coinage.

The United States Mint America the Beautiful Program is a multi-year initiative to honor 56 national parks and other national sites in each state, the District of Columbia, and five U.S. territories - Puerto Rico, Guam, America Samoa, U.S. Virgin Islands, and the Northern Mariana Islands. Through this program, five new reverse designs will appear on the quarter each year through 2020 with one design in 2021 to conclude the series. The coins are being issued in order in which the featured site was first established as a national park or site.
www.nps.gov
About the National Park Service. More than 20,000 National Park Service employees care for America's 417 national parks and work with communities across the nation to help preserve local history and create close-to-home recreational opportunities. Learn more at
www.nps.gov
.
Last updated: May 22, 2018