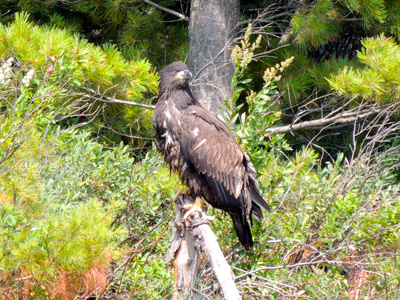 News Release Date:
August 1, 2018
Contact: Tawnya Schoewe, 218-283-6670
Contact: Steve Windels, 218-28/3-6692
International Falls, MN: Six (6) of the park's 276 developed visitor use camping and houseboat sites that were affected by temporary closures in May to protect bald eagle nesting pairs are now reopened for public use.  
The areas affected by the temporary closures reopened for public use were at:
Rainy Lake – Sand Bay South Houseboat Site (R-25)
Kabetogama Lake – Happy Landing Campsite (K-11), Camelback Island Campsite (K-3), Ek Bay Houseboat Site (K-47)
Namakan Lake – Hamilton Bay Campsite (N-11) and Sexton Island Campsite (N-62)
Yoder Island Houseboat Site (K-37) on Kabetogama Lake was reopened earlier this summer when the eagle nest near the site failed to hatch chicks.
VNP natural resource managers follow the conservation management actions of the Bald Eagle and Golden Eagle Management Act (16 U.S.C. 668-668c, 1940 as amended). Each year since 1992, the park has temporarily closed the land and water areas around active bald eagle nests to visitor use during their critical nesting periods. 
Voyageurs National Park completed the 46th annual bald eagle productivity survey in late July. Within the boundaries of VNP, over 100 nests were surveyed, of which 31 were occupied by breeding eagles that hatched at least 1 chick. These nests produced at least 40 eagle chicks that survived to fledging. 
Recent published research, conducted by Voyageurs National Service staff in collaboration with scientists from the University of Wisconsin and the U.S. Geological Survey, demonstrated that nest closures around selected nest sites near visitor use facilities increased the likelihood that the nest would successfully rear young eagles. The research also demonstrated that the eagle population within Voyageurs National Park likely recovered much quicker than it would have had nest closures occurred. More information about the study can be found at:
news.wisc.edu/scouting-the-eagles-proof-that-protecting-nests-aids-reproduction.
www.nps.gov
About the National Park Service. More than 20,000 National Park Service employees care for America's 417 national parks and work with communities across the nation to help preserve local history and create close-to-home recreational opportunities. Learn more at

www.nps.gov

.