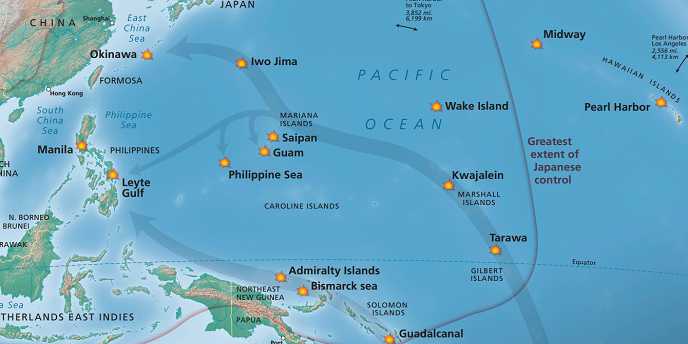 Emerging Powers
The traditionally inward-looking but rapidly industrializing United States began to move onto the world stage in the 1890s. By the end of the century, it was a colonial power, having annexed Hawaii, the Philippines, Guam, and Puerto Rico. The nation warmed to its new role, shedding its neutrality in World War I by declaring war on Germany in 1917. The next year it sent a force of 1.75 million soldiers to aid the Allies. O'ahu was caught up in global geopolitics as the expanding Pearl Harbor Naval Station on the island became the emblem of a fledgling U.S. empire with growing interests in the Pacific.
Japan was also making its presence known in the Pacific. Since the 1860s, it had been swiftly modernizing, transforming itself through industrialization and militarization from a dynastic feudal society to a regional power. By 1910, Japan had defeated China and Russia in armed conflicts, annexed Korea and Formosa, and occupied Manchuria. An ally of Britain, it took control of Germany's Pacific islands during World War I. Lacking natural resources to sustain its industry, Japan resolved to establish control over what it called the Southern Resource Area - Southeast Asian countries rich in oil, tin, iron, and rubber - putting it on a collision course with European colonial powers.
During the 1930s, Japan grew more nationalistic and militaristic. In 1940, it established the Greater East Asia Co-Prosperity Sphere, a bloc of Asian nations freed of western influence, to gain access to their resources. It joined the Axis powers through the Tri-Partite Pact with Germany and Italy. In response, the United States moved the Pacific Fleet to Pearl Harbor in 1941 and embargoed oil bound for Japan. Knowing the U.S. Navy was repositioning, Japan decided to strike early and secure new territories before the United States and its allies could respond.