ACROSS THE REEF: The Marine Assault of Tarawa
by Colonel Joseph H. Alexander, USMC (Ret)
---
In August 1943, to meet in secret with Major General Julian C. Smith and his principal staff officers of the 2d Marine Division, Vice Admiral Raymond A. Spruance, commanding the Central Pacific Force, flew to New Zealand from Pearl Harbor. Spruance told the Marines to prepare for an amphibious assault against Japanese positions in the Gilbert Islands in November.
The Marines knew about the Gilberts. The 2d Raider Battalion under Lieutenant Colonel Evans F. Carlson had attacked Makin Atoll a year earlier. Subsequent intelligence reports warned that the Japanese had fortified Betio Island in Tarawa Atoll, where elite forces guarded a new bomber strip. Spruance said Betio would be the prime target for the 2d Marine Division.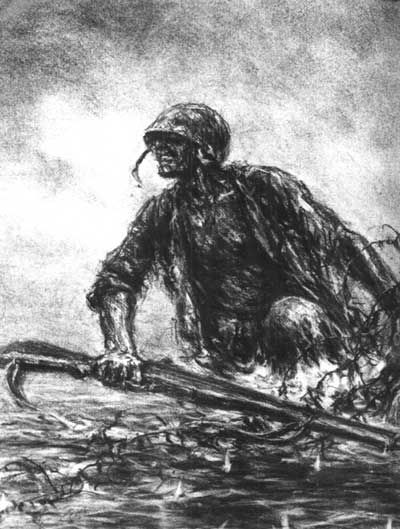 Artist Kerr Eby, who landed at Tarawa as a participant, entitled this sketch "Bullets and Barbed Wire." U.S. Navy Combat Art Collection
General Smith's operations officer, Lieutenant Colonel David M. Shoup, studied the primitive chart of Betio and saw that the tiny island was surrounded by a barrier reef. Shoup asked Spruance if any of the Navy's experimental, shallow-draft, plastic boats could be provided. "Not available," replied the admiral, "expect only the usual wooden landing craft." Shoup frowned. General Smith could sense that Shoup's gifted mind was already formulating a plan.
The results of that plan were momentous. The Tarawa operation became a tactical watershed: the first, large-scale test of American amphibious doctrine against a strongly fortified beachhead. The Marine assault on Betio was particularly bloody. Ten days after the assault, Time magazine published the first of many post-battle analyses:
Last week some 2,000 or 3,000 United States Marines, most of them now dead or wounded, gave the nation a name to stand beside those of Concord Bridge, the Bon Homme Richard, the Alamo, Little Big Horn and Belleau Wood. The name was "Tarawa."
---