Fishing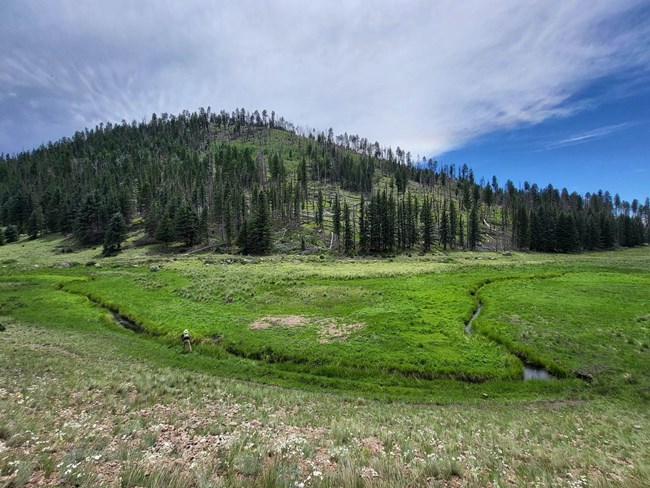 As the rivers of Valles Caldera National Preserve meander through lush mountain meadows, they create miles of pools and overhanging banks, which are home to thousands of trout. The views and quiet serenity are well worth the fishing trip. Fishing in Valles Caldera can help support preservation of native species and restoration of natural ecosystems.

Fishing regulations in Valles Caldera National Preserve are structured to strongly support native fish conservation goals. Rio Grande cutthroat trout are the sole, native trout of the park and were the dominant fish species here prior to Anglo-European settlement. However, the abundance of these native fish has been reduced because of impacts by introduced nonnative fish, including brown and rainbow trout. These nonnative species continue to contribute to the decline in the park's native fish population by competing for food and habitat, preying on native fish, and degrading the genetic integrity of native fish through hybridization.
To fish inside the park, you must have:
We offer an annual fishing permit valid through March 31 of the next year and a seven-day fishing permit.
Fishing Rules and Regulations
All anglers are responsible for being familiar with New Mexico Department of Game and Fish (NMDGF) fishing regulations and must have in their possession a valid NMDGF fishing license and a Habitat Management and Access Validation (HMAV) stamp
All anglers are required to have a current special use permit for fishing issued by the park.
All waters within the park fall under NMDGF's designation of "Special Trout Waters."

Only artificial flies and lures with single, barbless hooks are permitted.
The park bag limit is two trout.

Live bait is prohibited to prevent the introduction of invasive species. No bait such as worms, grasshoppers, salmon eggs, or corn.
Recreational and sports anglers can help prevent the spread of parasites:

Do not transport fish from one body of water to another
Do not disposing of fish bones or entrails in any body of water
Ensure boots and shoes are clean before moving between different bodies of water.

To minimize the chance of the fatal whirling disease, waders or other footwear intended for wading are prohibited. Additionally, the streams within the park are so small that waders are not needed, and the presence of people in the stream muddies up the waters downstream.
All nets must be sanitized prior to use in all waters within the park.
Remember, safety is your responsibility. Review information every visitor needs to know.
New Mexico Fishing License
Follow these steps to obtain and verify possession of a New Mexico Fishing License (valid April 1 through March 31).
Visit the New Mexico Game and Fish website
Fill out the required information by either applying online, calling the phone number listed, or visiting a license vendor
Remember, you need to have your New Mexico Fishing License on your person when fishing in Valles Caldera.
Special Use Permit for Fishing
Applications for obtaining a Special Use Permit for fishing in Valles Caldera for April 1, 2023 through March 31, 2024 are now available. Note: Be sure to obtain your 2023-24 New Mexico Fishing License starting April 1 before applying for a permit.
2023-2024 Fees
These fees support the management of the fishing program.
Annual (April 1, 2023 through March 31, 2024)
$20 - Adult
$10 - Youth 12-17
Seven-day
$5 - Adult
$3 - Youth 12-17
Next Steps
Payment
If payment is needed to obtain the permit, please contact Brenda Montoya at 505-412-0206.
Application Processing
Please allow 7-10 days for us to process the application. If you do not hear back from us by then, please inquire about the status of your application by calling Brenda or emailing VALL_Permits@nps.gov.
Sign Permit
Once the application has been processed, we will send you a permit to sign. Please sign and return the signed copy to VALL_Permits@nps.gov.
Receive and Use Issued Permit
After payment has been verified and the signed permit is returned, we will issue you the special use permit. Keep the issued permit (signed by you and a park employee) with your vehicle when visiting the park, keep the wallet card with you, and display the vehicle card on your dashboard when you park.
Please contact us if you have any questions.
Vehicle Access
Those anglers who want to drive their personal vehicles into the backcountry to fish the San Antonio Creek, Rito de los Indios, or Jaramillo Creek must obtain a backcountry vehicle pass. Passes are limited and available on Recreation.gov.
No backcountry vehicle pass is required to fish any park waters accessed by foot, bike, or horse.
Fishing Outfitters and Guides
Valles Caldera National Preserve allows but does not provide outfitter or guide services. Only authorized outfitters or guides are permitted to conduct business within the park. To work with a guide, please visit our listing of permitted fishing guides.
To become authorized, outfitters and guides must first obtain a commercial use authorization through Valles Caldera National Preserve prior to conducting any business within the park.
Last updated: August 17, 2023