Date:
October 4, 2011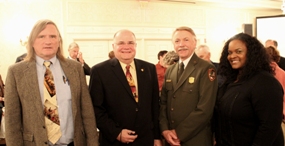 Congratulations and thanks to our outstanding park volunteers, partners, and staff for winning the national George and Helen Hartzog Award for Outstanding Volunteer Program in the National Park System.
This annual award was initiated nine years ago to recognize the time, talent, innovation, and hard work contributed to national parks through the Volunteers-in-Parks (VIP) program. At Valley Forge NHP alone, over 2,900 volunteers contributed more than 53,000 hours last year.
The award is a remarkable honor and recognition of the outstanding approach, management, participation, and results of the Valley Forge VIP program. The program was recognized for exceptional accomplishments both in fiscal year 2010 and for growth in the past years. Following is a summary:
The Valley Forge NHP VIP program is extremely popular and has grown every year since 2004, when it was completely re-organized. In FY10 the program concentrated on smart and strategic growth. So while we did experience 14% growth this year, with involvement from over 2,900 volunteers donating 53,000 hours, the first exceptional accomplishment is the way in which we expanded partnerships to support volunteering itself:
· The Friends of Valley Forge Park added the support of the VIP program to their mission
· The Young Friends of Valley Forge Park was founded to reach out to young adults who had been missing from the VIP corps
· The Valley Forge Convention & Visitors Bureau took over management of volunteers staffing the Visitor Center desk
· We also expanded partnerships with other organizations to support volunteering
Valley Forge considers our second exceptional accomplishment to be the implementation, which we have been building toward since 2004, of a continuum of hands-on volunteer opportunities that now reaches all ages, diverse communities, and interests. Working toward this over the last several years, we initiated or redesigned programs to achieve a broader reach into the community, made much greater use of community service programs, and initiated several well received new opportunities.
· We established robust new volunteer programs for young people. Youth volunteers assisting with natural resource-related projects increased 61% over the previous year. There was a 30% increase in youth assisting with education and living history programs; and a 25% increase in youth assisting with maintenance and cultural resources related projects.
· We made strategic investments of park funds and staff time in youth development programs including the Youth-in-Parks program (1692 hours of service), Student Conservation Association National High School Crew (1,088 hours of service), the Student Conservation Association Philadelphia Community Crew (2,880 hours of service from inner-city kids), and AmeriCorps NCCC (1,869 hours of service from a diverse crew).
· We developed and/or expanded attractive and popular new volunteer program opportunities, including the Schuylkill River Trail Ambassadors, Crayfish Corps, a volunteer archaeology program at Washington's Headquarters, and a volunteer-based living history program
We believe we can continue to grow confidently, focused on the park mission and on providing great opportunities for volunteers.