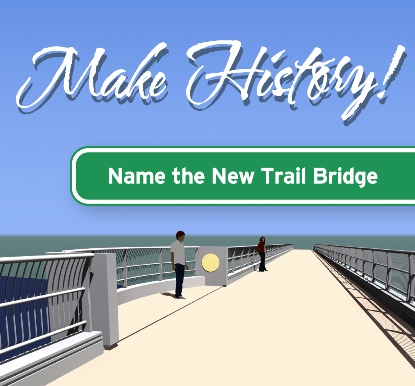 News Release Date:
June 7, 2013
Contact: Stephanie Loeb, 610-783-1013
VALLEY FORGE, PA- Plans are just about complete for a major new trail bridge across the Schuylkill River within Valley Forge National Historical Park. Scheduled to go under construction this winter and to open in 2015, the bridge will connect the north and south sides of the park, as well as connect the Schuylkill River Trail with the park's 26 miles of trails and with other regional trails including the Chester Valley Trail and the future Schuylkill River West Trail and Patriots' Path.
When a roadway bridge stood in this spot, it was called the Betzwood Bridge, named after a farm and a railway stop that are long gone. The new trail bridge is in need of a name, and the public is invited to come up with some great new ideas. 
The
Friends of Valley Forge Park
have announced a contest to name the new bridge, and they are seeking submissions that reflect the history or natural setting of the bridge. The public is invited to submit their ideas online or in person at the Valley Forge National Historical Park Visitor Center.  The contest will continue throughout the summer, ending on September 1, 2013. Participants may submit multiple entries for the bridge name, however the names of living persons, organizations, businesses, and corporations will not be considered.  The selection of a new bridge name will be announced on Saturday, September 28, 2013 at the park's
National Public Lands Day
event. Additionally, the contest winner will be invited and recognized as a special guest at the Friends' annual reception this fall. 
The old Betzwood Bridge was demolished for safety reasons in 1995. Since then, pedestrians and bicyclists have been able to cross the river using a temporary outrigger attached to the Route 422 highway bridge. The new trail bridge will be approximately 600' long and 14' wide, with an overlook half way across. Construction is a partnership among the Federal Highways Administration, the National Park Service / Valley Forge National Historical Park, the Pennsylvania Department of Transportation, Montgomery County, Upper Merion Township, and West Norriton Township.