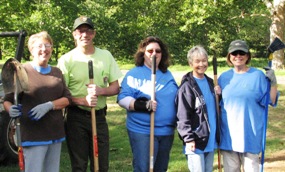 Individuals as well as groups are welcome to sign up to help with stewardship projects to help preserve the natural, cultural, and recreational resources at Valley Forge Park.
Join us at one of our four annual stewardship events, fun for all ages and skill levels. For those of you who are interested in single-day group opportunities, please contact the volunteer program manager to set-up a work day (must contact no less than three-weeks in advance).
Recurring individual volunteer opportunities can be found on our volunteer home page.
Thank you in advance for your support!