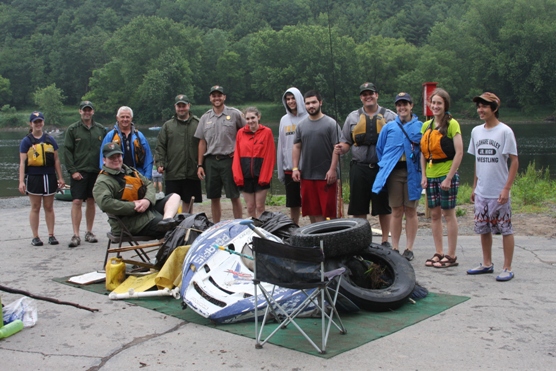 News Release Date:
May 4, 2012
Contact: Brandon Diefenbach, 570 685-4871
The 4th annual high school Paddle and River Clean Up will take place on June 9, 2012. Students can earn eight community service hours for graduation while experiencing the beauty of the river and learning about our watershed, wildlife, and recreation.This year's clean up trip is open to all area high school students but is limited to the first twenty who register. Registration is required.
This is your chance to help keep our public lands safe and beautiful!Each year volunteers remove a tremendous amount of litter and waste from the floor and banks of the river.This year, volunteers will be skimming both the Pennsylvania and New York shorelines for litter and whenever safely possible removing trash from the river bottom.
Volunteers are asked to meet at the Zane Grey Museum in Lackawaxen, Pennsylvania at 9:00 am on Saturday, June 9, 2012.The National Park Service will provide the vehicle shuttle, canoes, lifejackets, and paddles.We will be carrying out this activity rain or shine!Volunteers should expect to get wet, so please be prepared with the appropriate gear including extra clothing, proper footwear, a lunch, plenty of water, sun screen, dry-bag, etc.
Come join the fun and keep your river wild and scenic! For more information or to sign up for this summer's Paddle and River Clean Up, please call Park Ranger Brandon Diefenbach by Thursday, June 7 at (570) 685-4871.