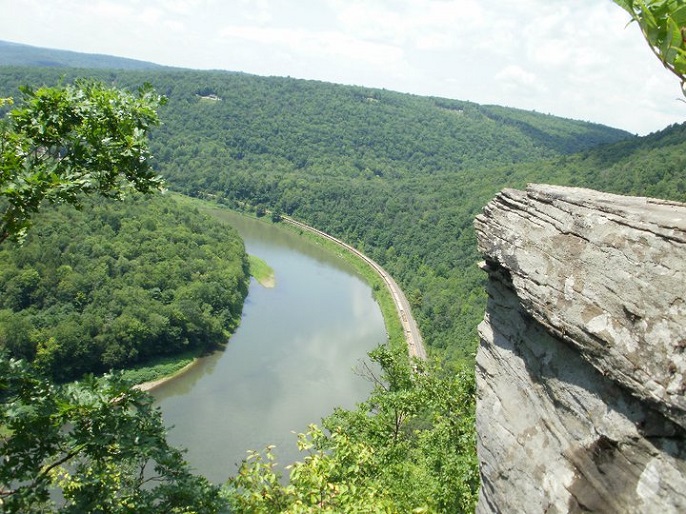 News Release Date:
August 28, 2015
BEACH LAKE, PA – On Sunday, September 27 from1:00pm to 2:30pm Upper Delaware Scenic and Recreational River's Park Rangers will lead a hike on the Bouchoux Trail (known locally as Jensen's Ledges) in Lordville, New York. Join us outdoors to get some exercise and enjoy the scenery, nature, and history that make the Upper Delaware a special place.
Along this two mile trail, observe large piles of bluestone and learn about the area's once booming bluestone quarrying industry. Hear the rustle of leaves as the trail ascends to the summit and learn about the plants of the forest, including a wide range of hardwoods such as oak and hickory. Be prepared with your camera for a stunning panoramic view of the Upper Delaware River Valley at the summit of Jensen's Ledges. 
The Bouchoux Trail is one of the six trails featured in the park's "Take a Hike!" program. Each trail is rated by difficulty and length, but short or long, easy or difficult, one of these trails is near you no matter where you are in the Upper Delaware. Complete all six hikes and receive a "Take a Hike!" patch.  
Meet us at 1:00pm at the Bouchoux trail head. To get to the trail head, turn onto Lordville Road from State Route 97 (near Lordville, NY), travel 2.8 miles and turn left on Bouchouxville Road. The trail head is on the left side at the end of the cul-de-sac. The GPS coordinates are 415231.6 –751047.7.
This hike is rated as difficult due to the steep terrain. Make sure you bring sturdy hiking shoes, pack plenty of water, and bring snacks and bug spray!
Information on the "Take a Hike!" program can be found on the park website at www.nps.gov/upde. Hiking information and can also be obtained by calling the park at (570) 685-4871 or by visiting us at the Zane Grey Museum in Lackawaxen, PA, or at one of our information kiosks located at the river accesses by Skinners Falls, Ten Mile River, Lackawaxen, or Mongaup.
For more information call (570) 685-4871, visit our website at www.nps.gov/upde, or follow us on Facebook at www.facebook.com/updeNPS or https://instagram.com/UpperDelawareNPS.