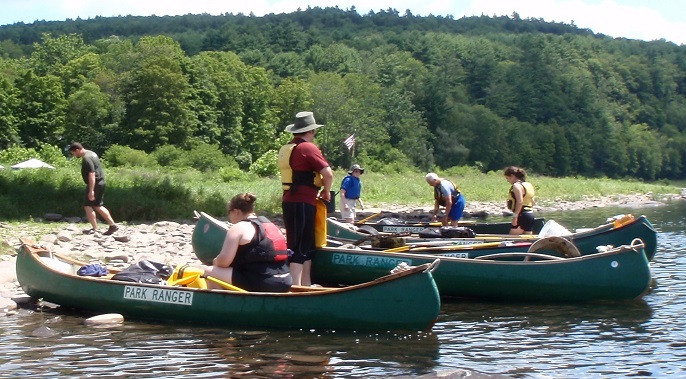 News Release Date:
September 17, 2015
BEACH LAKE, PA – On September 26, Upper Delaware Scenic and Recreational River will celebrate National Public Lands Day. National Public Lands Day is a nationally celebrated event that strives to get people out into our nation's beautiful publicly owned lands, including National and State Parks. To celebrate this event, Upper Delaware Scenic and Recreational River will be hosting a park-wide volunteer event, which will focus on maintaining the park's treasured natural resources.
Want to get involved? You're in luck! We are seeking volunteers for our National Public Lands Day events. There are three projects: a river clean-up, a trail maintenance project, and planting a pollinator garden. All projects will take about four hours to complete, and you may only sign up for one project. See below for details on each event, and do your part to keep our public lands beautiful.
River clean-ups are a great way to get out on the river, while helping keep the Delaware River beautiful and clean. If you are looking for a fun way to help out your community, look no further! The clean-up will run from the Lackawaxen Access down to the Corwin Farm Ranger station. This is a beautiful stretch of the river that takes the paddle under the Roebling Bridge and past the scenic community of Barryville, NY. The National Park Service will provide equipment, including lifejackets, canoes, and paddles. Volunteers should bring appropriate gear, such as a change of clothes, closed toe shoes, a hat, sunscreen, plenty of water, and a bagged lunch. It is important to note that volunteers should plan to get wet, and should be comfortable around moving water.
If you don't want to go on the water but still want to help out join volunteers to clear limbs and brush from the Tusten Mountain Trail. What a great way to get outdoors and enjoy the scenic views from the top of the trail while making a difference for future hikers. All tools and safety equipment will be provided and all you will need to bring is sturdy shoes, plenty of water, sunscreen, insect repellant, hat, and a bagged lunch.
Finally, our pollinator garden project is perfect for expert and amateur gardeners alike! Come out and learn about the importance of attracting pollinators, such as bees, butterflies, and bats to the area, and help us begin work on a garden at our Milanville, PA office. If you participate in this event, you will receive a packet of wildflower seed mix that you can use to start your very own pollinator garden! 
Don't forget to bring your camera in case you get the opportunity to take a wonderful picture for Upper Delaware S&RR's 2015 Photo Contest. Bring friends and family and spend a great day hiking or paddling and making a difference to your national park.
The event will begin at 9:00 am at the Zane Grey Museum in Lackawaxen, PA. The address of the museum is 135 Scenic Drive, Lackawaxen, PA 18435. Participants will gather to learn more about National Public Lands Day and about how the day will unfold. To register for an event or to get more information about these three events, please call Anya Shaunessy at 570-685-4871 ext. 6610.
To show our appreciation to our volunteers on this day, we will be giving every volunteer a voucher that grants free admission to any public land in the country! The National Park Service relies on volunteers to achieve its goal of stewardship, and appreciates the hard work and commitment of volunteers who have helped to keep the Delaware River clean and beautiful. We look forward to seeing you at our National Public Lands Day Celebration!
For more information visit our website at www.nps.gov/upde, or follow us on Facebook at www.facebook.com/updeNPS.