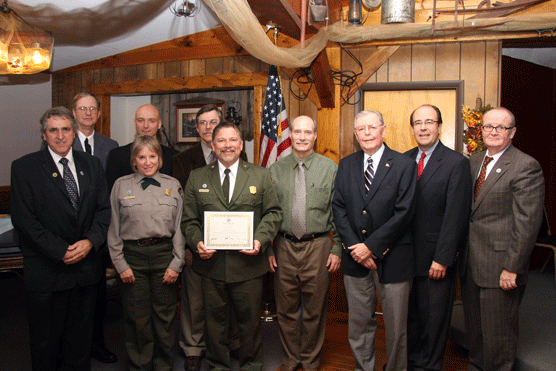 News Release Date:
November 17, 2008
Saturday, October 25 was a rainy, bluster day, but the weather did not keep people away from the first of UPDE's two 30th Anniversary celebrations. More than 300 people, many parents with young children braved the elements to attend the event that featured live animal programs and displays and exhibits from more than 20 partners. The event featured a poster contest, an Upper Delaware River photography exhibit and various demonstrations. Guests also received a commemorative tote bag made from recycled materials. While the entire UPDE staff worked to produce this successful event, Carla Hahn and Ingrid Peterec deserve special recognition for their work as co-chairs. Carla also worked extensively with the River Reporter to produce a 20-page Anniversary insert for the newspaper. To see the supplement on line go to: http://www.upperdelawarecouncil.org/pdf/press_releases/partnering_to_protect_river2.pdf
On Nov. 8 a Thirty-Year Retrospective that took place at Central House Resort in Beach Lake, PA.   Among the 74 people who attended the day-long symposium to discuss the Upper Delaware's historical evolution, present operations, and future challenges were all four National Park Service superintendents to hold that position in the Upper Delaware.  A Certificate of Special Congressional Recognition, co-signed by Congressmen Maurice D. Hinchey, Jr. (NY), John Hall (NY), and Christopher P. Carney (PA), was presented.
Pictured above from left to right are: William E. Douglass, executive director, Upper Delaware Council, Inc.; Ed Zygmunt, aide to Congressman Carney; Chris White, aide to Congressman Hinchey; Sandra S. Schultz, NPS assistant superintendent; Cal Hite, NPS superintendent from 1995-2001; Vidal Martinez, NPS superintendent from February 2008 to present; Dave Forney, NPS superintendent from 2002-2008; John Hutzky, NPS superintendent from 1979-1995; Marvin Rappaport, aide to retired Congressman Matt McHugh (NY); and Frank Connor, associate regional director for administration, National Park Service Northeast Region.