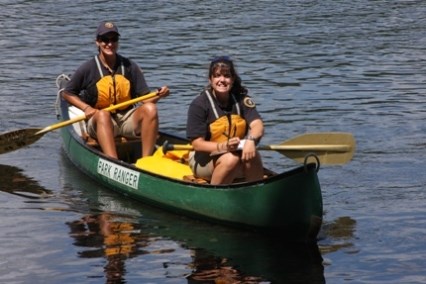 Upper Delaware Scenic and Recreational River offers Park Ranger Internship opportunities during the summer season. Positions are normally filled by mid-March each spring.
The Upper Delaware is one of the lesser known of over 400 national parks in the United States. The positions offered will provide prospective interns an invaluable work experience in the land management field, as well as the opportunity to enjoy the scenic wonders and recreational pursuits that this unspoiled stretch of river can provide.

Upper Delaware Scenic and Recreational River includes 73 miles of a clear, free-flowing river winding its way through a valley of swiftly changing scenery. The Delaware River forms the border between New York and Pennsylvania, stretching from Hancock, NY in the north, to near Port Jervis, NY in the south. A very active timber industry once utilized the swift waters of the river. Today, canoeists and rafters join fishermen and other outdoor recreationists in enjoying the clean and nearly pristine waters.