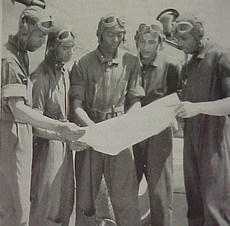 Find out what's news in the park. In addition to our news releases and Schedule of Events, below are brief notes of nice to know tidbits of future happenings in the park.
On February 15, 2014 Tuskegee Airmen National Historic Site hosted the opening of Hangar #2 and site dedication. Hangar #2 features new exhibits, a 27-minute movie, aircraft, and an Eastern National bookstore/giftshop.
Informational bulletin boards are available near the upper level parking area that visitors to get an overview of the "lay of the land" before they take the leisurely stroll downhill and begin their journey with a visit to Hangar #1.
Directional signs have been added to the site landscape near the upper level parking to assist visitors to navigate their way down to the Historic Core where original buildings from the 1940's testify to exciting activities of times gone by.