Calendar
Event Results
Sorry, but there are no events between 09/18/2020 and 10/18/2020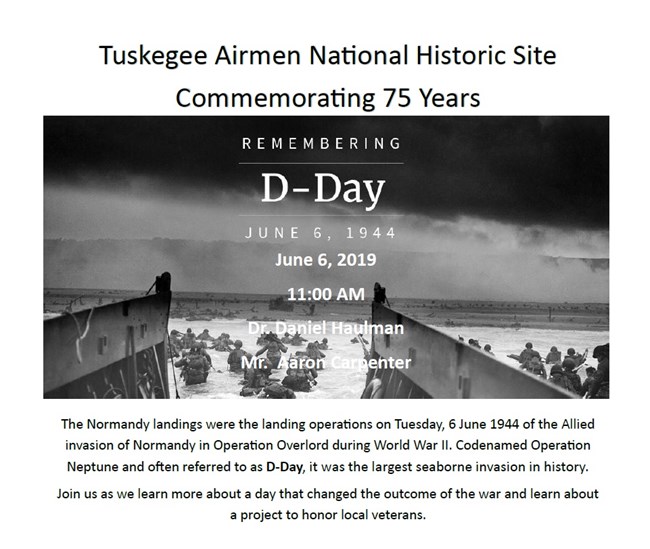 Tuskegee, AL –
The National Park Service, in partnership with Friends of the Tuskegee Airmen National Historic Site, Inc., will commemorate the 75th anniversary of the Normandy beach landings, also referred to as D-Day. The program begins at 11am June 6, 2019 in Hangar 2 at the Tuskegee Airmen National Historic Site.
Noted researcher and historian Dr. Daniel Haulman, Chief of Organizational Histories at the Air Force Historical Research Agency will be presenting on the topic: Before the D-Day Dawn. Mr. Aaron Carpenter of the Caroline Marshall Draughon Center for the Arts & Humanities, at Auburn University will present on the Macon County Veterans History Project that was done in partnership with the Tuskegee Public School.
The Normandy landings were the landing operations on Tuesday, 6 June 1944 of the Allied invasion of Normandy in Operation Overlord during World War II. Codenamed Operation Neptune and often referred to as D-Day, it was the largest seaborne invasion in history.
Join us as we learn more about a day that changed the outcome of the war and learn about a project to honor local veterans.
This Program is FREE and open to the public.