Illinois Research
Illinois Annotated Bibliography
In 2003, the NPS entered into a cooperative agreement with the Department of Forestry at Southern Illinois University in Carbondale. As part of a larger project, Professor John Burde (now retired) and Research Assistant Karen Frailey produced a substantial bibliography about the Trail of Tears in Illinois. Specific topics covered include volumes about the three counties through which the trail traversed (Union, Johnson, and Pope), Roads of Southern Illinois, and Regional Works.
Camp Ground Cemetery and Church
The main (northern) land route of the Trail of Tears crosses southern Illinois in an east-west direction between Golconda, Illinois (on the Ohio River) and the vicinity of Cape Girardeau, Missouri (on the Mississippi River). This stretch of trail, near the midpoint of the journey between eastern Tennessee and Indian Territory, witnessed much suffering among the Cherokee. Various folk tales, reports, and diaries tell of deaths in this area. An important Cherokee campsite in Illinois — and a possible series of Cherokee graves — was in the vicinity of today's Camp Ground Church, near Anna. To gain more knowledge about the reputed burials, the NPS partnered with the Department of Geology at Southern Illinois University in Carbondale (2006). Dr. Harvey Henson, Jr. worked with a team of students who experimented with a variety of remote sensing techniques to ascertain the number and location of unidentified (and possible Cherokee) graves in and adjacent to the Camp Ground Church Cemetery. Report: Geophysical Investigation at Camp Ground Cemetery and Church near Anna, Illinois, April 2010.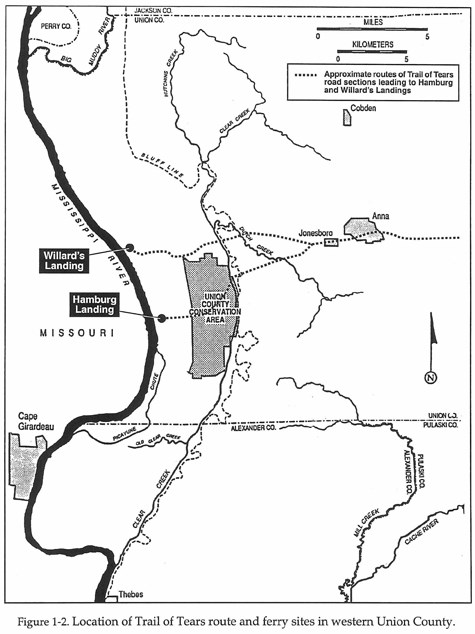 Union County Archival-Historical Investigations
Principal investigator Mark Wagner prepared this report between October 2002 and September 2003. The report focuses on Union County, which is the westernmost of the three Illinois counties that were located along the northern (main) Trail of Tears route — traversed by thousands of Cherokee between 1837 and 1839. Wagner's research had three objectives: (1) to examine land, tax, and other records to determine if any of nine known archeological sites could have been occupied ruing the Trail of Tears period, (2) to determine the locations, owners, operators, and types of ferries that the various Cherokee detachments may have used, and (3) to review various contemporary journals to see if any Union County landowners may have been identified.
Archival and Historical Investigations into the Locations of Cherokee Trail of Tears Sites in Illinois
This report is a historical and archival study of the types and locations of cultural properties associated with the Cherokee Trail of Tears (1837-1839) within Illinois. Such properties included taverns, mills, residences, stores, ferries, cemeteries, and campgrounds. Wagner and Sharp examined the distribution of the above properties within a 10-mile wide corridor (five miles north and five miles south) of Route 146. Based on a variety of research methods, the researchers created a GIS database showing the distribution of cultural properties. A total of 545 properties were located within the corridor, of which 414 could be mapped by location. Thirty-eight of these sites have associated oral history or written documents that link them to the Trail of Tears and 15 could be identified to specific location.
Last updated: January 27, 2020