Places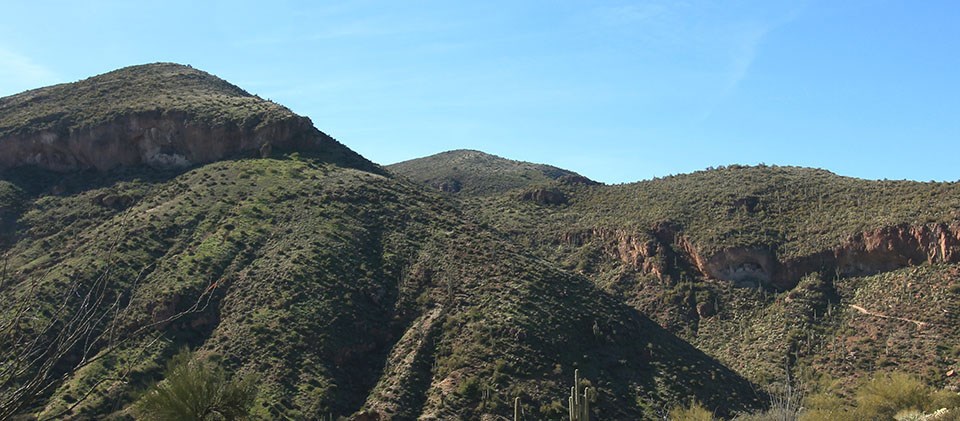 Two 700 year old cliff dwellings tucked into natural caves high above the valley are protected by the National Park Service in Tonto Basin. Tonto Basin is located between the desert dwelling Ancient Sonoran Desert People, the Ancestral Puebloans and the Mogollon all of whom contributed to the development of Salado.
As hunters, gatherers, and farmers, the Salado took full advantage of the desert resources around them. They gathered desert plants, cultivated cotton, corn, beans, and squash with dry farming methods, and obtained water from an ancient spring which still runs. Their pottery spread widely throughout the southwest. They grew cotton and spun it for weaving intricate textiles such as blankets and clothing.
The two cliff dwellings are the best preserved architectural evidence of the Salado cultural phenomenon. The Salado had extensive trade networks across and throughout the southwest, the Pacific Coast, northern Mexico, and the Gulf of California. Their dwellings were part of a vast multi-cultural network from the Four Corners to Northern Mexico.
Archeologists are not sure why movement into the caves began. Perhaps it was for protection from weather or because the valley below was fully occupied. As with every aspect of their life, the builders took full advantage of the materials available in their environment.
Both cliff dwellings are built in natural caves. Other construction materials such as rock, sand, saguaro ribs, and water were nearby. Materials such as pine and juniper roof beams had to be carried from surrounding mountains.
The prehistoric builders used a mixture of stone and adobe to build the walls and wood elements to build door lintels and roofs.
The Lower Cliff Dwelling contains about 20 rooms and may have supported 40 to 60 people at its maximum habitation. The Upper Cliff Dwelling contains about 40 rooms, 32 on the ground level, and 8 to 10 second story rooms. It was occupied for more than 100 years but by 1425- 1450, many of the people in the Tonto Basin had moved to other areas.


Last updated: May 11, 2021