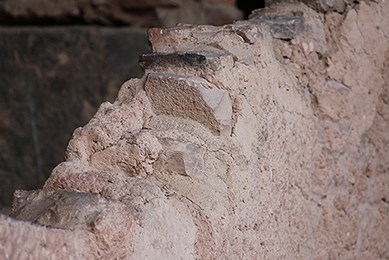 The masonry of the Lower and Upper Cliff Dwelling is of clay and native stone. Adobe was used for both mortar and plaster. The mortar was applied profusely and the rocks were set in it with no special attempt at fine work, and the whole was completely plastered over with a thick layer of mud. All water had to be hauled by the steep incline from the spring. The stone is unshaped quartzite, which occurs conveniently and in great quantity on the talus slope below the cliff dwellings. The adobe is a creamy tan in color and full of small stones, which inhibited the making of very smooth plaster. The clay was probably obtained from the talus slope, as there are places where a fair grade of it can be secured with a slight amount of work in removing the larger rocks.
Walls were laid in courses 18 to 24 inches high before plaster was applied. The first course was rounded at the top so that the next course would give a better bond. After the first course was dry the next was laid, and so on. Horizontal lines which denote these units are clearly visible on the walls. These are called cold joints.
No foundations were used- walls rested on either bedrock or loose fill- and because the rock faces are irregular, the resultant walls lack stability, though they could reach considerable height. For example, the tallest wall standing in the Lower Cliff Dwelling is 15 feet 7 inches and rests on loose fill. Walls taper slightly from bottom to top and average 12 inches thick, with plaster averaging 2 inches thick. From the number of handprints still visible, plastering was done by hand. Interior rooms have their plaster stained from smoke.
In addition the builders did not bond new walls to the old walls. This is ideal for an archeologist wishing to determine the building sequence, but is a definite structural weakness. Such weakness would not have affected the building too much while it was occupied and with the ceilings kept in good condition, but once the ceilings were gone the walls were more apt to fall apart.