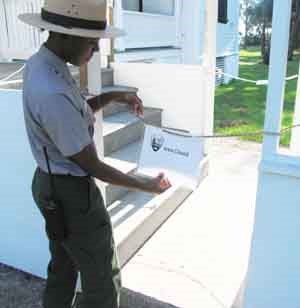 Plan Ahead
Every visit to a National Park Service site should be a safe and happy one. With a little planning you can get the most out of your visit. By checking local weather reports, printing out maps ahead of time, and letting others know when you plan to return from a hike you sure to make it home safe with wonderful memories.
Tips
Stay on the designated trails.
Bring bug spray, sunscreen and water.
Watch your step on uneven surfaces (look our for tree roots).
Keep valuables out of sight in your vehicle and lock your car.
Keep dogs on a 6 foot leash.
Check the weather report before any boat trip.
Animal Safety
Please respect our wildlife. Our park protects a wide range of beautiful creatures, some of which can prove hazardous to people.
Check yourself for ticks after a hike.
Rattlesnakes are just one of the venomous snakes in the park, give all snakes the right of way.
Alligators live in this park, learn to recognize their nests before exploring fresh water ponds.
Even small animals like squirrels and raccoons can bite.
Mosquitoes carrying Zika are a potential risk in all Florida parks.