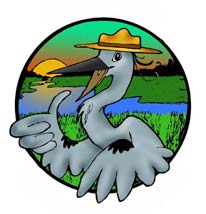 Hey Kids! This page is just for you!
Want to explore? Take a walk with a ranger? Look for animals and plants? See a fort? Then you've come to the right place.
Check out the links to the left for activities for kids like you. There's activities you can do at the park or from home.
And keep an eye out for me - Wade, the Junior Ranger mascot! I'll point out the fun stuff to do online and at the park.